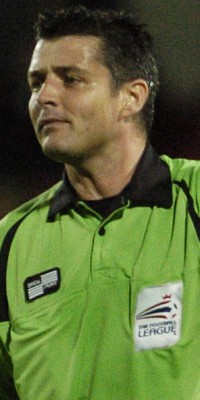 Unfortunately he's a referee who has provided us with some worrying moments in the past, but he's a referee we've not seen that often since he first refereed a Burnley game at West Ham in 2003.
That day Stan Ternent was far from happy with the awarding of the free kick that led to West Ham's equaliser in a 2-2 draw, but it was his inability to award a penalty for a handball on the line at Barnsley on Boxing Day 2006 that will be remembered much more.
He astonishingly awarded a corner, robbing Burnley of the spot kick, at a time when we were a goal down and battering them, while also allowing Barnsley to continue with eleven men. The decision was even worse than the one from Lee Mason on the Turf almost a year later.
Since, he's refereed us twice and not had impressive games, the most recent being the 1-1 draw at Loftus Road against eventual Championship winners QPR in October last season.
One notable statistic is that in six previous Burnley games there have been four red cards although only one has been a Burnley player, that being Ade Akinbiyi on his Clarets' debut and that is one decision we can't point the fingers at the referee for. The others were Leicester's Jordan Rhodes in 2004/05 and Crystal Palace pair James Scowcroft and Shaun Derry in 2008/09, both games away and ending in 0-0 draws.
This season he's refereed 25 games but only four of those games have been at Championship level. In those games there have been a total of 78 yellow cards along with two red cards. Of those yellows, 29 have gone to home team players and 49 to away team players.
One of the red cards came in the Championship, in his last Championship game between Portsmouth and Watford at Fratton Park in January. He sent off Watford goalkeeper Scott Loach with eight minutes remaining.
His last game came last Saturday; the League One clash between MK Franchise and Exeter which was won 3-0 by the home side. Exeter's Chris Shephard was the only player yellow carded.
Williamson has had two qualifying games for RATE THE REF and he's currently in 43rd place with a rating of 48.21 out of 100.
The assistant referees are Richard Corp (Somerset) and Adam Nunn (Wiltshire). The fourth official is Guy Stretton (Leicestershire).
Previous Burnley Games
Season

Opponents

V

Res

Y

R

Burnley Players Carded

2003/04

West Ham United

a

2-2

5

0

n

Camara, Grant

2004/05

Leicester City

a

0-0

2

1

n

Duff. Sinclair

2004/05

Sunderland

h

0-2

7

1

n

Roche

n

Akinbiyi

2006/07

Barnsley

a

0-1

3

0

n

Duff, Hyde

2008/09

Crystal Palace

a

0-0

8

2

n

Paterson, McDonald, Carlisle

2010/11

Queens Park Rangers

a

1-1

6

0

n

Eagles, Duff, Alexander