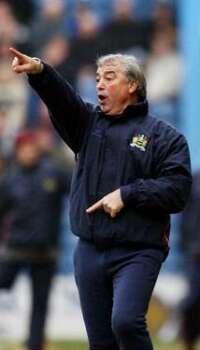 Stan Ternent - having a go at the fans

"We have only lost one of the last six",
said Stan,
"What more do they want?"
He is right of course, in fact we have lost just one of our last seven league games although there have been a good number of draws.
There is more than one way to look at it though and Stan often says he likes to look at the wider picture so let's do that. A look at the last twelve games shows that the Clarets have picked up just twelve points and we all know a point a game is relegation form.
We could take an even wider picture though and point to the fact that we have 61 points from 36 games and that is good enough to keep us in fifth place in the league. However the frustration amongst many fans is based on the recent results and a look at the league table now and the league table just after Christmas perhaps explains why. When we set off for Maine Road on 29th December we were four points clear at the top of the league with a game in hand on both Manchester City and Wolves. Today we are fifteen points behind Wolves with still that game in hand.
As Wolves have hit the sort of form that would surely have taken them to the top anyway with 30 points from 11 games we have picked up just 11 points in the same time. Wolves are the best team in the division in that period whilst the Clarets are very close to the bottom of the league on current form.
Nobody is complaining about us being fifth in the league. Everyone is appreciative of the fact that just three years ago we looked as though we would be going into the 3rd Division as Gillingham and Man City came and murdered us and now we find ourselves up there in Division One. Next Saturday sees the third anniversary of that 6-0 defeat to City.
Ironically things turned round so much for the better after that result yet this time everything seems to have gone wrong since the 5-1 defeat at Maine Road. There are many Burnley supporters who can see us slipping out of the play off places, I think everyone has now given up any hope of making the top two, and it would such a shame if we were to miss out. There are no guarantees that we will be up there again next season.
Apparently the supporters have champagne tastes on beer money. Our mail bag has shown that many fans are very upset at this comment. Up to £19 for home match tickets cannot under any circumstances be called beer money. It is not cheap to go on Turf Moor, it is even worse for away fans and we wonder why they don't come. Even the Preston fans are calling Turf Moor a rip off.
But back to the statistics. Our home form this season (and remember that a big percentage of Burnley fans only ever see home games) is worse than last season. That is now a fact and even if all the remaining home games are won then we will still have dropped more points at the Turf than last season.
Our away form is better than last season though and we now have more away points than in the whole of last season, in fact we already have six points more. So far we have collected 31 points (still with five games to go) and since three points for a win was introduced we have only ever bettered that on three occasions. In 1981/82 season we won 34 points away from home and in 1991/92 and 1999/2000 we won 37 points. In each of those three seasons the Clarets won promotion.
The cap doesn't fit me Stan, I was not booing on Saturday and to be honest where I was sat in the Harry Potts Upper Tier there did not appear to be much problem. If so it only came at the end of the game.
On the day you were appointed you kept stressing the word togetherness and how important it was if we wanted to progress. Last Tuesday you expressed your disappointment at the performance via the media and actually said that none of the players were better than mediocre. Surely the supporters were only doing the same on Saturday.
I'll be there on Tuesday with the cap that does fit, the one that has BFC on the front of it, willing us to pick up three points. I will be as frustrated as you if we don't get them and as frustrated as you if we don't play well and it will have cost me a lot more than beer money for the privilege.