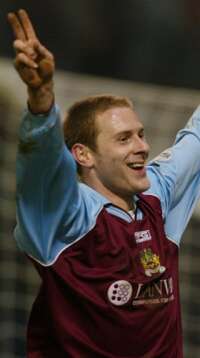 Ian Moore -played in more games than any other player in 2002/03
Our first team stats cover all matches in Division One, the FA Cup and the Worthington Cup and you can check which of these games each of our players played in.
There is a page for each player who played in any of the games in those three competitions and we have created a new section for this entitled First Team Stats which can be found in the Clarets Latest section of the site.
Our stats don't end there though and we have also included appearance and goal lists for the Reserve and Youth teams in all of their competitions.
You can view both of these in our Reserves/Youths Stats section which can also be found in the Clarets Latest section, the first section at the top of the navigation bar on the left hand side.