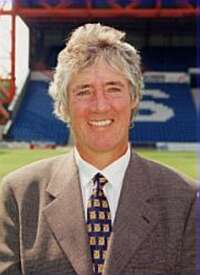 Mr. Hell-Wood of the Unprofessionals
Now we are not too sure who Barrie Kilbie is but we have managed to work out that Mr. Hell-Wood is once again doing his utmost to sell one of his players. They claim to have knocked back our bid for striker Shefki Kuqi and have now tried to frighten us with news that Sheffield Wednesday are also interested in signing him.
However they claim that Mr. Hell-Wood is expected to have talks today with the Burnley chairman (so they mean Barry Kilby!) in an attempt to strike a deal. If nothing can be done then he will talk to the chairman of the struggling relegation facing chairman of Sheffield Wednesday and try to get some of his Phoenix League money.
What will happen? For what it is worth I think that should Stockport County get their way then Shefki Kuqi will be a Claret long before we make the trip to Wimbledon next Saturday. It will all depend on the negotiations between Mr. Hell-Wood and Barrie Kilbie.