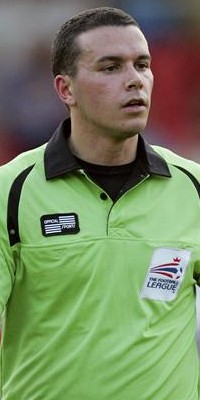 That Forest game, in the promotion season, was won 5-0 and overall Whitestone didn't have too bad a game. However, that was his second Burnley game and the previous one had been something of a nightmare for him.
That first appearance was in the previous season and the home game against Watford. That day he turned in a performance that I described as every bit as bad as the one we'd seen just a few weeks earlier from Lee Mason. He missed just about everything other than a couple of Darius Henderson elbows for which he believed no further action was required.
On so many occasions he was surrounded by Burnley players baffled by his decisions and that led to a couple of yellow cards. The Longside hurled abuse at him but that seemed to make it even worse.
At that time, Whitestone, who was labelled Whitewash on the message board, was in his second season as a Football League referee and was waving cards around every game, but he certainly appears to have calmed down now and this season there are 80 yellow cards and just four red cards in his 28 games.
Only five of those games have been at Championship level and none of the red cards have been in those games. Of the yellow cards, 34 have gone to home team players and 46 to away team players.
Last time out was last Saturday when he refereed Chesterfield's 1-0 home win against Tranmere Rovers. There were two yellow cards; for Chesterfield's David Davis and Tranmere's James Wallace.
His performance in the Nottingham Forest game lifted him up the RATE THE REF table. He's now in 45th place with a rating of 47.63.
The assistant referees are Chris Kavanagh (Lancashire) and Danny Markham (Tyne & Wear). The fourth official is Paul Marsden (Lancashire).
Previous Burnley Games
Season

Opponents

V

Res

Y

R

Burnley Players Carded

2007/08

Watford

h

2-2

4

0

n

Akinbiyi, Caldwell, Cole

2008/09

Nottingham Forest

h

5-0

2

0