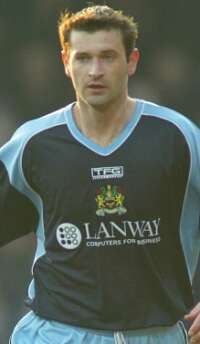 Alan Moore - in the side after scoring last week at Fulham
There have been no new signings this week and so Barry Kilby's suggestion that we could expect at least one new player for the Derby game has not materialised. In fact Stan has said he hasn't been looking for anyone.
The injury list is now down to three in Steve Davis, Glen Little and Brad Maylett. Maylett will be out for some time, Davis is still a couple of weeks away from doing any training and Little is apparently troubled with an abductor strain again although it was reported that he missed last week's game with a thigh injury.
Stan has made it clear that there is no place for Arthur at the moment and went as far as to suggest that he is way down the pecking order for a place in the team. He had a nightmare against Reading but had played particularly well at Palace and Brentford before that but having gone back to France with his head up his backside it seems as though he is now very much out of favour.
The team is obviously going to be very close to that which drew with Fulham last Sunday and the only question will be the formation. Robbie Blake could come back if Stan decides to return to a 4-4-2 system and with Ian Moore in the side that could switch to 4-3-3 but I think he could well be inclined to stay with the starting eleven that served him well in the cup tie.
If that is the case then the Clarets will line up: Marlon Beresford, Dean West, Ian Cox, Driss Diallo, Graham Branch, Ian Moore, Tony Grant, Paul Cook, Lee Briscoe, Alan Moore, Gareth Taylor. Subs: Nik Michopoulos, Mark McGregor, Paul Weller, Robbie Blake, Dimitri Papadopoulos.
There is no news of the Derby line up but there could be a place for the White Feather Fabrizio Ravanelli in the starting line up. He player 25 minutes a couple of weeks ago and last week the entire second half as he builds up his fitness and there have been suggestions that he could get his first start since they won at Grimsby on the second weekend of the season.
Manager John Gregory though is looking forward to the match and said that Turf Moor is a good place to go and play football.
Derby should select from the following: Lee Grant, Richard Jackson, Warren Barton, Steven Elliott, Luciano Zavagno, Adam Bolder, Robert Lee, Georgi Kinkladze, Paul Boertien, Lee Morris, Izale McLeod, Andy Oakes, Adam Murray, Pablos Mills, Marcus Tudgay, Fabrizio Ravanelli.
Click HERE for more on Derby, a look at past results and a former crowd favourite of both clubs.