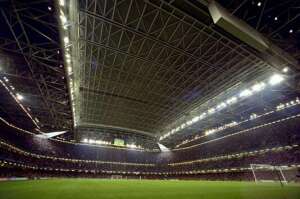 Millennium Stadium before last season's play offs
With that in mind we have received a lot of emails from Clarets fans asking when the play off games will actually be played and so below is the complete list of dates for all three division.
This season is a break with tradition and all three will not be played on the same weekend, this is to avoid the 3rd Division play off final being played on a Friday evening. It will be played on the previous Monday, May Day Bank Holiday.
The full list of dates is:
Semi-Finals First Legs
Divisions One/Two – Sunday 28th April
Division Three – Saturday 27th April and Sunday 28th April
Semi-Finals Second Legs
Divisions One/Two – Wednesday 1st May
Division Three – Tuesday 30th April
Finals
Division One – Sunday 12th May
Division Two – Saturday 11th May
Division Three – Monday 6th May
For those of you looking further ahead the 2002/03 Football League season will get under way on Saturday 10th August and for those of a less pessimistic nature the 2002/03 Premiership seasons starts on Saturday 17th August.