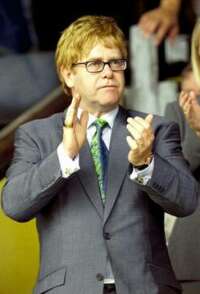 Elton John - leaves Watford
It all started with attempts to fast track two foreign clubs, Celtic and Rangers, into the league with Bradford City chairman Geoffrey Richmond at the forefront. With news that it had all been rejected he then put his club into administration with rising debts.
The situation at Bradford is bad and already 39 members of staff, including 19 senior players, have been made redundant with immediate effect. The most frightening thing of all though is the fact that of the potential buyers for the club Richmond is favourite. Shouldn't we be running this man out of the game for ever?
The FA might have stopped two foreign clubs getting a First Division place but yesterday they paved the way for a currently non existent club to receive an automatic place in the Nationwide League's top division. They can call them what they want, they can include the name Wimbledon, but basically this will be a new club playing in Milton Keynes having been given a place they are not entitled to. You have to feel sorry for Brentford who have been trying to get into the First Division via a method known as promotion, miss out at the last hurdle, and then see this happen.
Today though it gets more ridiculous and further evidence that winning points is not necessarily required to gain success. Next season Ipswich Town will be joining us in Division One because they weren't good enough to stay in the Premiership and ended the season in the bottom three.
Meanwhile teams further up the league were battling for places in the two European competitions. Wrong move I'm afraid, just keep losing but as long as you don't commit too many fouls and don't get too many yellow cards you will make it. Ipswich have won a place in next season's UEFA Cup because they were winners of the fair play league. What a load of nonsense.
It has all proved too much for one First Division chairman and yesterday Sir Elton John CBE said 'Goodbye Yellow Vicarage Road' as he ended his second spell at Watford. Even he couldn't cope with Gianluca Vialli as manager.