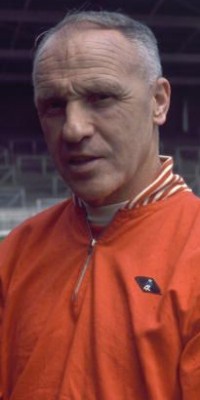 Bill Shankly - Brendan Flood has compared Owen Coyle to him
Flood confirmed today that it was Scotland boss Alex McLeish who finally persuaded the Clarets to go for the St. Johnstone manager. Flood said: "I said we needed one or two more references, so he gave me Alex McLeish. Alex took the time out last Friday to tell me what a great guy Owen is and that he's going to be a Premiership manager one day. This was the night before Scotland played Italy and that spoke volumes for me.
"Phil Gartside, the Bolton chairman, also said that Owen came into their thinking before Gary Megson was appointed. He's already had three job offers from Scottish Premier League clubs and is a natural winner, as he proved by beating Rangers 2-0 at Ibrox last season in the CIS Cup."
It was then that Flood went on to compare him to Shanks, who managed Carlisle, Grimsby and Huddersfield before becoming Liverpool manager in December 1959, a position he held until his retirement in July 1974.
"When we first spoke to Owen he struck me as being like a young Bill Shankly," said Flood. That's a big label to give him but there are definitely similarities. He's teetotal like Shankly was and has the same steely determination."
Coyle advocates the same philosophies of Shankly who always referred to the "holy trinity" of manager, players and supporters, and the new Burnley man said: "The lifeblood of any football club is the fans because without them there is nothing. We have an obligation to do our utmost to get the result for the fans because they wish they were out there on the pitch themselves.
"I was the same when I was growing up in Glasgow watching Celtic. My parents came over from Donegal in Ireland when they were about 20 and had six boys and three girls.
"Growing up in the Gorbals was tough but very tight-knit and the grounding I had there stood me in good stead as a man and in my football career. It gave me a work ethic and taught me to treat people properly, as well as giving me a real passion to go and win football matches."
If our new manager is half as good as Shanks, if he has half the passion that Shanks had, then without doubt we have made one fantastic choice.