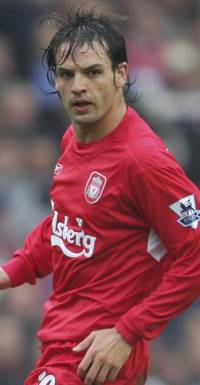 Fernando Morientes - cannot play tonight

It's been a busy ten days for Liverpool manager Rafael Benitez since the game was called off a week last Friday and he has been back home to Spain to bring in two more new recruits.



The first of these is Argentinian defender Mauricio Pellegrino who has arrived from Benitez' previous club Valencia and later in the week forward Fernando Morientes finally completed his £6.3 million move from Real Madrid.



Both of them made their debuts on Saturday in the one game they have played since the cup tie should have gone ahead, that was at Anfield in a 1-0 defeat against fierce rivals Manchester United. That was just a nice pleasant warm up for tonight's game.



Neither of the two new signings will play tonight, even though the competition rules have been relaxed this year with the scrapping of the seven day rule players still have to be signed before the original date for the tie.



They probably wouldn't have played in any case – Benitez won't be fielding anything like a full strength side. There certainly won't be any sign of one of the country's top players Steven Gerrard who will be resting tonight and other first choice players will also be left out of a tie that the Liverpool manager doesn't consider that important.



He said yesterday that finishing fourth in the Premiership is considerably more important than the FA Cup and as such will be fielding a young side. We can expect to see David Raven, John Welsh, Stephen Warnock, Zak Whitbread, Neil Mellor and Darren Potter are all expected to start while Mark Smyth and Paul Harrison are likely to be used as substitutes.



Benitez does not rate us, or our league, and said this morning, "If you play against a First Division team (he's not aware of the change of name) then you should be able to play young players because they should have the quality to play against that level."



The only other name definitely pencilled in for Liverpool is goalkeeper Jerzy Dudek who will be looking for a good performance after he and Sammy Hyypia gave away the only goal of the game against Manchester United at Anfield.



As for the Clarets I think it is fair to see that we are depleted and it looks as though both Michael Duff and Graham Branch will miss the tie. It is a massive blow for Branchy who is a Liverpool fan and was really looking forward to playing against them.



Two other Clarets, John McGreal and Ian Moore, are also big fans and they will get the chance to play against them tonight.



West Brom gave permission for James O'Connor to play but there were suggestions that they decided against it at the eleventh hour a week last Friday. That is now confirmed and he won't be able to play tonight, the good news there is that Micah Hyde is free from suspension and will be in the side.



We are likely to line up:



Brian Jensen, Frank Sinclair, Gary Cahill, John McGreal, Mo Camara, Lee Roche, Richard Chaplow, Tony Grant, Micah Hyde, Jean-Louis Valois, Ian Moore.



Paul Scott, Matt O'Neill and coach Mark Yates will be on the bench as will Joel Pilkington if he recovers from injury but that looks to be about it.

Mark Clattenburg will again be in charge tonight but there will be no sign of assistant Rob Lewis who has problems seeing balls going about a yard over the line. He was removed at the last minute on the original date and has been left off again tonight. The assistants will be Messrs R Burton and J Moss.



Last Saturday's referee Michael Jones was the fourth official originally but tonight it is Premiership referee Howard Webb from Rotherham. Webb was there the last time the Clarets played an FA Cup tie when we went out last season at Millwall.



He sent off Paul Weller but appeared to hand over refereeing duties to Dennis Wise for much of the afternoon while not even managing to hear any of the abuse directed at Mo Camara.



Our half time guest will again be Ian Brennan who was all ready for action with his wellies on last time.



See below for the preview, the referee, and Ian Brennan from ten days ago.