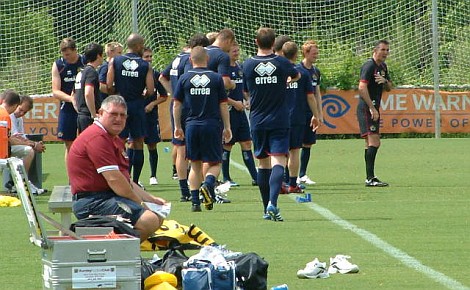 Owen Coyle takes training whilst director Clive Holt chooses to sit it out
Clarets Mad is going to have a busy night as Clarets fans log on and watch the live streaming of the game, and hoping to catch a glimpse of some of our new signings in action. We know Diego Penny won't be there but this could be the first opportunity to see our four other new recruits Christian Kalvanes, Kevin McDonald, Martin Paterson and Remco van der Schaaf.
The game is expected to be played in high temperatures and this could lead to manager Owen Coyle making a number of changes throughout the game but he wants his side to put on something of a show for their hosts at Cary when we come face to face with their PDL team the Cary Railhawks.
"I think the players have been very receptive to everything we are trying to do," Coyle said ahead of the game. "We are working very hard and I have to say there are fantastic facilities at Carolina Railhawks that we are benefiting from.
"We sent the whole first day there, enjoyed two sessions and had lunch at the training grond. It has been enjoyable and we have been made to feel very welcome. The good people of Carolina have gone out of their way to be hospitable and we want to repay that by putting on a good show."
He added: "It is hot, so the double training sessions are there to help the players acclimatise quickly. However, it will be a tough game given the conditions and the fact that they are a fit, young, energetic team. We are still only seven days into pre-season, but it is a game we are looking forward to."
Whilst we will probably make extensive use of the squad. Jarrett Campbell has given us some tips on who could be the players to watch in the Railhawks team.
Number 4 Michael Videira: Videira is a playmaking midfielder and our captain. He has graduated university and was drafted into Major League Soccer by New England Revolution. He has refused to sign a contract based on terms offered and is holding out to sign an international contract during the transfer window. Videira holds a Portuguese passport so a work permit is no issue. Probably the only serious prospect in the match that Burnley could be interested in.
Number 7 Zach Schilawski: Schilawski is a rising junior at Wake Forest University (3rd year). He is local from Cary and scored the winning goal for Wake Forest in the university national championship game in 2007. He is fleet of foot, makes well-timed runs, and gets himself into the right space to score goals. Could give your defense a lot of trouble as they will likely not be match fit yet and the heat will be more than they are used to playing in.
Number 2 Darius Barnes: Another local Raleigh-Durham area player, Barnes is a rising senior (4th year) at Duke University. He is an athletic right back who really knows how to pick the right time to make a loping run forward. Barnes has perhaps the best long throw-in I've ever seen. He can put the ball on the head of a forward at the penalty spot from a throw...better than a corner most of the time.
Number 6 Michael Callahan: Another crafty midfielder and another local Cary boy. Callahan is a rising senior at University of North Carolina and will likely play in Major League Soccer after his university career.
Number 16 Ronnie Bouemboue: He Is a rising junior at North carolina State University. He missed all of last season with a knee injury and has been using the U23 season as rehab. He is extremely fast and has a nice outside shot. He's the leading scorer for the U23s this season, tallying 5 goals and 3 assists in 9 matches this season.
And one player you won't get to watch...
Number 23 Ike Opara: Opara is a rising sophmore (2nd year) at Wake Forest University. Last year, he started the season on the bench and earned his way into the starting back four for the team that went on to win the national championship. Opara will miss the match on Thursday night as he has been called into the USA U20 National Team for a friendly against Mexico.