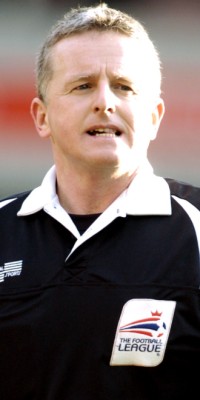 Webster started and ended Burnley's 2010/11 season. He refereed the opening day fixture against Forest and was back at the Turf for the last game against Cardiff. He refereed three of our games last season, also taking charge of the Boxing Day win at Barnsley.
It was a game between the two clubs who confuse the BBC and Sky so much, Burnley and Barnsley, when he got his first ever game at this level. That came in his first season on the Football League list which was 2000/01.
Burnley also won that game 2-1, but this was at the Turf in January 2001. It was hardly a quiet day for him; there were seven yellow cards and one red card. Ian Cox, Lenny Johnrose and Ian Moore all saw yellow with Barnsley's Chris Morgan sent off.
Morgan is one of four players he's sent off in Burnley games and the others have all been Burnley players. Off went Arthur Gnohere in a 2-0 home defeat against Bradford City in 2002/03 and Frank Sinclair in another home defeat, this time a 1-0 loss to Leeds in 2004/05 when he then went on to win the man of the match. Early in the 2006/07 season he sent off Andy Gray at Sheffield Wednesday in a 1-1 draw.
Later that season there were eight yellow cards in our 2-0 defeat at Preston, but despite all this he's a referee generally I like. He's undemonstrative and he will allow a bit of leeway to try and keep the game going.
He won't be like Michael Naylor who hardly made a decision at Forest on Tuesday but he will allow the players to play as much as possible.
This season he's refereed 24 games. In those games he's handed out a total of 60 yellow and 5 red cards. Of those yellows, 28 have gone to home team players and 32 to away team players. Three of the reds have gone to home players and the only one of the five that's been in the Championship was that of former Claret Richard Chaplow in Southampton's 1-0 win at Barnsley in August.
His last game came two weeks ago. That was Huddersfield's 3-2 home win against Brentford. The players yellow carded in this game were Jamie McCombe (Huddersfield) and Jake Bidwell (Brentford).
Webster has had six qualifying games for RATE THE REF and he's currently in 30th place with a rating of 63.41 out of 100.
The assistant referees this afternoon are Steven Copeland (Merseyside) and Darren Handley (Lancashire). The fourth official is Paul Kettlewell (also Lancashire).
Previous Burnley Games
Season

Opponents

V

Res

Y

R

Burnley Players Carded

2000/01

Barnsley

h

2-1

7

1

n

Cox, Johnrose, I Moore

2001/02

Crewe Alexandra

h

3-3

2

0

n

I Moore

2001/02

Gillingham

h

2-0

0

0




2002/03

Blackpool

h

3-0

3

0

n

A Moore, Blake

2002/03

Bradford City

h

0-2

4

1

n

Davis, Gnohere

n

Gnohere

2004/05

Wolverhampton W

h

1-1

5

0

n

Camara, Grant

2004/05

Leeds United

h

0-1

3

1

n

Cahill, Sinclair

n

Sinclair

2005/06

Crewe Alexandra

a

1-2

5

0

n

Hyde, McGreal, Thomas

2005/06

Sheffield United

a

0-3

0

0




2005/06

Norwich City

h

2-0

1

0




2006/07

Sheffield Weds

a

1-1

3

1

n

Gray, McCann

n

Gray

2006/07

Preston North End

a

0-2

8

0

n

Branch, Duff, Elliott, Harley, McCann

2007/08

Ipswich Town

h

2-2

3

0

n

Jordan, Mahon

2007/08

Barnsley

h

2-1

0

0




2008/09

Cardiff City

h

2-2

2

0

n

Gudjonsson

2008/09

Queens Park R

h

2-1

4

0

n

Caldwell, Mahon

2010/11

Nottingham Forest

h

1-0

3

0

n

Mears, Iwelumo

2010/11

Barnsley

a

2-1

1

0




2010/11

Cardiff City

h

1-1

3

0

n

Edgar, Mears