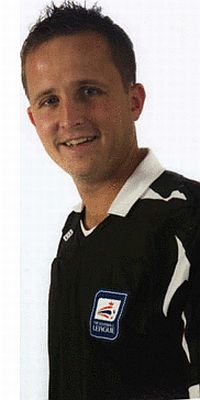 It will be his fourth Burnley game, the last of the previous three coming on Boxing Day last season when he refereed our home game against Doncaster.
He had a decent enough game that day, as he did on his previous visit to Turf Moor, these two games making up for a disappointing game he had at Coventry in December 2010.
Webb became a Football League referee at the start of the 2008/09 season but he's been more involved in the lower two divisions. Since refereeing that Boxing Day game, all but three of his games have been lower down than the Championship.
In previous seasons he's not been over enthusiastic with his yellow cards although he has averaged around three per game. Last season there were 108 in 37 games which also included seven red cards.
Just one of those red cards was in the Championship, that of Watford's Lloyd Doyley in their 3-2 home win against Leicester.
Webb has made a busy start to the 2012/13 season. He refereed Tranmere's Capital One Cup win at Chesterfield in which there were six yellow cards and he followed that up with five more on Tuesday as Accrington beat Port Vale 2-0 at the Crown Ground.
The players carded in that game were Aristote Nsiala and Michael Liddle (Accrington) and Chris Neal, former Burnley loan player Richard Duffy and Sam Morsy (Port Vale).
Tomorrow the assistant referees are Ian Dudley (Nottinghamshire) and Ian Hussin (Liverpool). The fourth official is Bob Roberts (Lancashire).
Previous Burnley Games
Season

Opponents

V

Res

Y

R

Burnley Players Carded

2010/11

Coventry

a

0-1

3

0

n

Duff

2010/11

Swansea

h

2-1

6

0

n

Duff, Mears, Fox

2011/12

Doncaster

h

3-0

3

0

n

McCann, Paterson