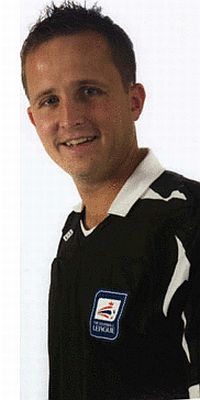 It's a fixture he knows all about. The last time he refereed either club was on New Year's Day this year when he was in charge of last season's corresponding fixture, a game won by Burnley.
He had a decent enough game that day and that's been the case for most of his Burnley games, certainly four of the five and this after a very disappointing game at Coventry in the 2010/11 season.
This season is his sixth as a Football League referee but he still doesn't get too many Championship games. Last season he refereed 34 games with only nine of those Championship games, and that included one more Burnley game at Huddersfield, like tomorrow on the second Saturday of the season.
Over the seasons he's tended to average around three yellow cards per game. That was very much the case last season with 105 in 34 games with 47 of them going to home team players and 58 to away team players.
He also sent off six players including two from the Championship with both for the same team in the same game; Ipswich losing 1-0 at Nottingham Forest last March having had both Lee Martin and Richard Stearman dismissed.
He kicked off his season at Tranmere on Tuesday night for their Capital One Cup tie against league newcomers Mansfield. Tranmere won the game 2-0 with Mansfield's James Jennings the only player to receive a yellow card.
David Webb's five previous Burnley games have taken him to 19th in the RATE THE REF Table with a rating of 70.19 out of 100.
The assistant referees at Hillsborough will be Alf Greenwood (North Yorkshire) and Paul Hodskinson (Lancashire) with Danny Gratton (Staffordshire) the fourth official.
Previous Burnley Games
Season

Opponents

V

Res

Y

R

Burnley Players Carded

2010/11

COVENTRY

a

0-1

3

0

n

Duff

2010/11

SWANSEA

h

2-1

6

0

n

Duff, Mears, Fox

2011/12

DONCASTER

h

3-0

3

0

n

McCann, Paterson

2012/13

HUDDERSFIELD

a

0-2

1

0

2012/13

SHEFF WED

a

2-0

1

0

n

Lafferty