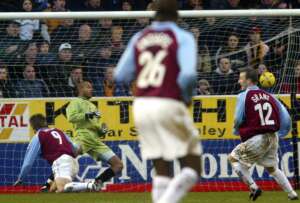 Gareth Taylor heads the Clarets 1-0 up
Winning on Boxing Day is not something we have found particularly easy in recent years and this was the first since goals from Kevin 'Rooster' Russell and Steve Davis saw off Wrexham in 1993.
Winning against Wolves, particularly at home, is even rarer and that statistic can finally be laid to rest as we picked up maximum points from this fixture for the first time in over 39 years.
Needless to say injuries had to play a further part and Graham Branch missed out with a hamstring injury with Mark McGregor playing left back. Otherwise it was how we predicted with Coxy and Alan Moore back in the starting line up. And we had two of the younger players, Mark Rasmussen and Matthew O'Neill, on the bench.
Alex Rae, having spent the build up to the game having a go at the Clarets, lined up in midfield with Paul Ince. It is difficult to understand why either of these two were wearing the old gold shirts of Wolves, surely with the way they both attempted to referee game they would have been much better off in black.
Along with the constant cheating and diving of Kevin Cooper and Mark Kennedy there is no doubt that there cannot be a set of bigger mard arses playing anywhere in the Football League. It really does make it feel all that much better when you know you have given this set of whingers a beating.
We've seen it before with Rae and know all about Ince but I do think York referee Matt Messias stood up to them as best he could despite the ridiculous pressure they put him under. Poor Messias suffered from a lack of support from two totally incompetent assistants and needed eyes in the back of his head to keep up with the goings on from this lot.
But whatever was happening with Wolves this was a far different Burnley from the one that had given goals away for fun in the last two games. There was so much more resolve about our play and quite simply we looked up for it and looked as if we wanted to win it.
Wolves had problems with this because they clearly don't like the opposition chasing and harrying and certainly cannot cope with an opponent challenging or tackling. So it was the Clarets who took hold of the game and started the better.
We were unfortunate not to take an early lead but apart from the odd break most of the play was towards the Cricket Field End and Matt Murray's goal. And Murray had no hope whatsoever when we finally did take the lead through Gareth Taylor, his first Turf Moor goal of the season.
Taylor apparently cannot play with his feet but he started the move with a sublime piece of skill as he controlled the ball and beat a Wolves player all in one movement before playing it out to Robbie Blake on the left wing. He then made ground towards the box and after some great wing play by Blake got himself on the end of the cross to head home with some power.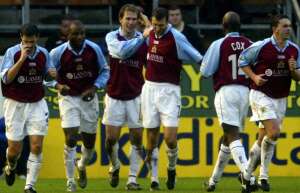 and we celebrate the goal
We continued to press forward and just eight minutes later it was 2-0 and we owed much to the referee. He played an advantage after a horrible challenge by Dean Sturridge and as the ball run to Dean West he hit home via a deflection.
This was fantasy football, two goals up against Wolves, and there was only one side in it now. It could so easily have been three right on half time too but the keeper saved from Blake as he shot from a tight angle. But two up was fine and with the visitors more intent on whinging than playing football everything looked good.
Sometimes when an opposition player gets up to no good he gets stick from the home crowd. By this stage all four Wolves midfielders were getting it and there's nothing better than a riled Turf Moor crowd to improve the atmosphere.
Not too long into the second half and Cooper was booked for an appalling bit of diving that looked way beyond the capabilities even of a Greek striker. Shortly after that we lost one of the whingers, big gob Rae, but that only served for Ince to take over more extensive refereeing duties.
Wolves were getting far more possession than they had done in the first half but they were hardly creating chances and we were defending well when we had to and it is difficult to recall Marlon having a save to make other than routine stuff. In fact if anything with the excellent promptings from midfield a third Burnley goal looked the more likely.
Marlon though found himself in the wars with just six or seven minutes left on the clock as he was crudely fouled by Wolves' sub George Ndah. It was right in front of the assistant who did what he had done all afternoon, he didn't bother to get involved.
Shaken and limping Marlon was able to carry on but just how much it affected him in Wolves next attack is difficult to say. It did result in them pulling a goal back through out of favour defender Paul Butler, on as a sub.
Suddenly the atmosphere changed in the stands, surely we weren't going to let this slip. In truth that was never on as Wolves failed to create anything in the remaining nine minutes that were played and when Messias blew his final whistle we had finally ended our 39 year wait to beat Wolves at home in a league game.
So many of our players did well today and probably none more so than Gareth Taylor who won the sponsors' man of the match award. My choice though is Paul Weller who was outstanding in midfield as he saw us pick up our first win in his third game as captain.
But there were no bad performance and the only worrying thing is trying to fathom just how we can play so well at times and then in other games, such as last week, so damned badly.
We are off to Brighton on Saturday with no idea which of the two teams we will be taking, the good or the bad. If it is today's good team then another win is very much on the cards but who knows?
But for now we can celebrate a well deserved win as the whingers make their way back down the M6.
The teams today were,
Burnley: Marlon Beresford, Dean West, Ian Cox, Arthur Gnohere, Mark McGregor, Glen Little (Ian Moore 79), Paul Weller, Tony Grant, Alan Moore, Robbie Blake (Dimitri Papadopoulos 88), Gareth Taylor. Subs not used: Gordon Armstrong, Mark Rasmussen, Matthew O'Neill.
Wolves: Matt Murray, Marc Edworthy, Mark Clyde, Joleon Lescott, Denis Irwin (Paul Butler 45), Kevin Cooper (George Ndah 64), Alex Rae (Colin Cameron 54), Paul Ince, Mark Kennedy, Dean Sturridge, Carlton Cole. Subs not used: Michael Oakes, Kenny Miller.
Referee: Matt Messias (York) with both Alex Rae and Paul Ince trying to take over.