We started the game like a house on fire during which time we took the lead through latest signing David Jones and we ended it with a flurry of goals from Junior Stanislas, Danny Ings and a first in Burnley colours for Scott Arfield.
Between all that York asked a lot of questions of us, particularly in the latter stages of the first half. We stood firm allowing that goalscoring finish and a place in the second round for the seventh successive season.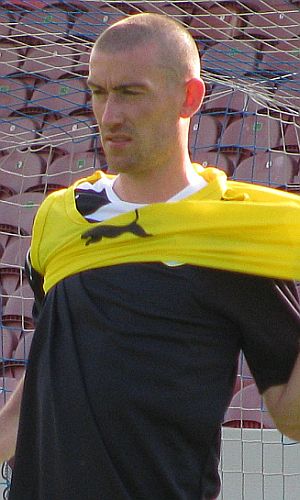 First Burnley goal for David Jones
The trip to York for us was one of those that didn't quite go to plan. With pick up points in Burnley and Blubberhouses, for our Yorkshire contingent, the idea was to get parked up near the ground, take a stroll into the city and get something to eat and drink before going back to Bootham Crescent for the game.
We managed to time the Blubberhouses pick up to perfection but horrendous traffic jams on the A19 meant it took us not much short of an hour to travel the last mile of the journey and that meant the local chippy, just round the corner of the ground, got a bit of extra business.
The ground hasn't changed much since our last visit; the only change coming outside at the home end where new houses are being built. It's the same place that so many Burnley fans recall with such affection and, during the game, we had chants of "Jimmy Mullen's Claret & Blue Army" and "Super Johnny Francis."
But this is 2013 and, over 21 years on we've never played our football at that level again. Our return in the COCUP was our first visit since a league game on Boxing Day 1998. Some clubs make changes in this competition; we didn't with manager Sean Dyche sticking with exactly the same team as had drawn with Bolton on Saturday, and, for good measure, the same seven substitutes.
The way we started this game could have led to a report covering the first twenty minutes only. So well did we start that the whole contest could even have been over with by the time we opened the scoring just before 8 o'clock.
Almost in the first attack of the game, Sam Vokes got onto a Kieran Trippier cross. From behind the goal it looked for all the world as if we were going in front but the ball hit the bar and came out safely for the home side.
A move down the left led to Danny Lafferty pulling a ball back for Ings who shot just wide and then we cause havoc for York from a series of three corners in just a few minutes.
The first, on the right, saw Jones and Ross Wallace combine well. The ball was laid back for Trippier. This time his cross was met by the boot of Vokes who saw Michael Ingham save well. A left wing corner from Junior Stanislas led to a Kevin Long header going just over and it was hard to believe the scoreline really was still 0-0.
Another corner, back on the right, finally led to the opener. Wallace it was again who took it, this time swinging it into the near post where Jones turned it in from around six yards out.
It's always said you need to score when you start a game so well. We had done and at that point in the game I expected us to, maybe, go on and win it comfortably.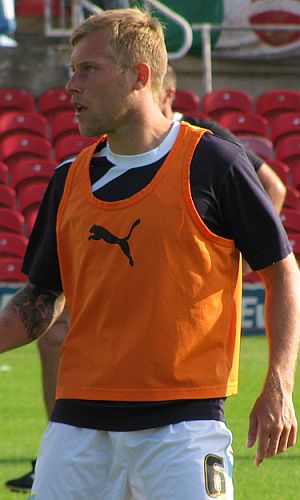 and for Scott Arfield
We did just that, but not in the way I expected. There was no way whatsoever we could have kept that up for the full game and so, inevitably, York started to get more of a foothold into the game, and to the extent that for a long period in the first half they were very much in the ascendancy.
They saw a lot of the ball, put us under some real pressure at times, but we stood firm and the two central defenders in particular, Kevin Long and Jason Shackell, were able to deal with much of it.
Even so, from a break forward, Ings was close to adding a second just before the break which came with us still in front.
The pressure continued in the early part of the second half. Tom Heaton made a good save and Dean Marney ended one attack with a brilliant block around ten yards from his own goal.
But just past the hour it all turned our way again as we doubled the lead against, it has to be said, the run of play. York gave the ball away to Trippier down the right and when he pulled it back just inside the box it was finished expertly by Stanislas.
That was surely game over for York, and so it proved. Scorer Stanislas was very much involved with the third. From around ten yards inside his own half he played Ings clear down the right hand side before surging forward to offer an option as Ings played the ball in.
It rebounded to Ings, possibly off Vokes, and this time he slotted the ball home for number three. A goal then for Ings and that was followed with an assist from him for goal number four. He slid in substitute Arfield on the left and the midfielder opened up to slide a right foot shot past Ingham into goal.
The Burnley fans on the open end were celebrating now. Four goals to the good. As the final whistle blew I suggested "It's a rout" as a match report headline, but it was hardly that. Had York scored during their period on top then things could have been so different.
They didn't. It's Burnley who will be in the draw tomorrow, and seeded, for the second round, and this game goes into the record books. It's the first time we've scored four goals in an away game in this competition since that wonderful night at Tottenham in January 1983 and the 4-0 win represents our best ever away score in the League Cup alongside wins by the same score at Cardiff in 1960/61 and Doncaster in 1965/66.
The teams were;
York: Michael Ingham, Lanre Oyebanjo, Chris Smith, David McGurk, Jamal Fyfield, Craig Clay, Ashley Chambers, Tom Platt (Lewis Montrose 67), Sander Puri (Michael Coulson 22), Ryan Jarvis (Wes Fletcher 70), Ryan Bowman. Subs not used: Chris Kettings, Daniel Parslow, Tom Allan, Daniel Coates.
Burnley: Tom Heaton, Kieran Trippier, Kevin Long, Jason Shackell, Danny Lafferty, Ross Wallace (Scott Arfield 62), Dean Marney, David Jones (David Edgar 70), Junior Stanislas, Danny Ings, Sam Vokes (Brian Stock 80). Subs not used: Alex Cisak, Luke O'Neill, Keith Treacy, Ryan Noble.
Yellow Card: Ross Wallace.
Referee: Tony Harrington (Cleveland).
Attendance: 3,922 (including 946 Clarets).