As days watching football go, York in April 1992 very much fits into the special category and Burnley Belvedere are commemorating that win with a special Vintage Clarets Day on Sunday 26th August during which the main feature will be the 3pm kick off of the Vintage Clarets v a Burnley Belvedere XI.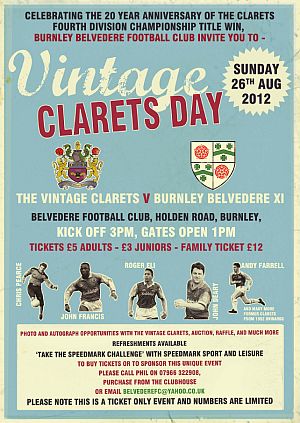 The Clarets' team will include several members of that side. Goalkeeper Chris Pearce will be there, playing alongside midfielders Andy Farrell and John Deary. Forwards Roger Eli, John Francis and Graham Lancashire have also confirmed.
The gates open at 1pm at Belvedere's Holden Road headquarters and there's much more including an opportunity for the kids to take the 'Speedmark Challenge'.
This is a big opportunity to see some of the class of 1992 again as well as supporting grassroots football through one of the oldest football clubs in Burnley.
Burnley Belvedere seem to have always been around, indeed they were formed in 1888 and actually played home games in one of their early seasons in the Lancashire Amateur League (1902/03) at Turf Moor.
Tickets, which are limited, are available at just £5 for adults and £3 concessions and there is a family ticket for just £12 which admits two adults and up to three children.
It is strictly all ticket and you can get yours one of three ways. They are available from the Belvedere clubhouse. Alternatively you can EMAIL them or call Phil on 07966 322908 (and don't forget to mention Clarets Mad when ordering your tickets).
We might not be going to Holden Road in our thousands but it is still going to be a superb day out with the opportunity to see players again from that iconic 1991/92 season.
Click HERE to see a bigger version of the poster.