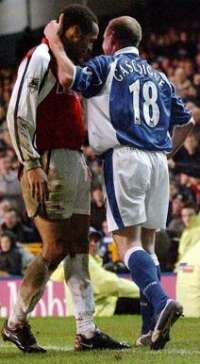 It's the one on the right that we are interested in
This morning some of the national press picked up on our story and this has brought about some official news from the Turf. Speaking to the club's own web site chairman Barry Kilby has confirmed that we have made an approach for the former England player.
Barry said, "We have made enquiries about him and it is part of our plan to strengthen the squad ahead of the transfer deadline later in March. It is one of many avenues we are looking at to try and make sure we go forward.

"Stan Ternent has had a conversation with Walter Smith about his availability, so the ball is in Everton's court but it has to be sorted out financially and the move has to be right for both parties. So the decision will ultimately be down to Paul Gascoigne".

Should this signing come off, and I just have a hunch that it might now we have confirmed the approach, then it will surely create just as much interest and media attention as the Ian Wright signing did just over two years ago.
Gazza might well be 34 now but having seen him this season he still looks fit and certainly leaner than he has done for some years. Ian Wright-Wright-Wright gave us the boost we so needed in the promotion season and Gazza could provide just that this time around.
There are three weeks to go to the transfer deadline, this season it is a lot closer to the end of the season than is usually the case. In fact a transfer deadline day signing would be available for only five games. I suspect the Clarets need to move a lot quicker than that should they want to bring new players in and hopefully that will be the case with a deadline really of next week before the Preston game.