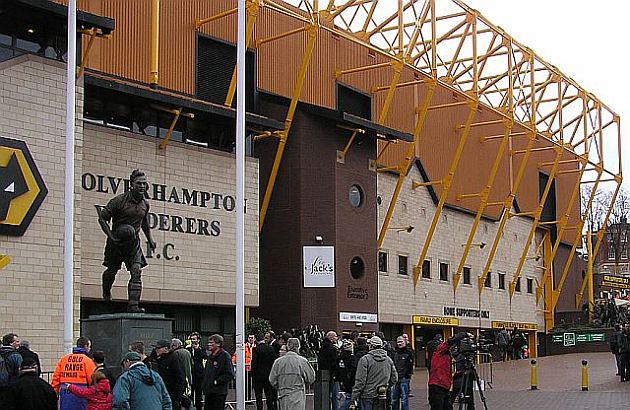 Crisis time at Molineux
One of them is becoming the laughing stock of English football, another was left the best squad in the Championship by its recently departed manager and the third is, according to the present incumbent, in crisis.
The club in crisis are Wolves. That's not the view of its supporters, although I'm sure they can't be happy at successive defeats at home to Peterborough and Ipswich before yesterday's loss at Crystal Palace.
No, they are the words of manager Ståle Solbakken. I know football fans don't want to hear a load of bull and excuses from a manager but they do want positive words and 'We are in crisis' is hardly positive no matter which way you dress it up. "I have the responsibility for the results and we are in crisis now, no doubt about that," he said. "We have to have the belief things will get better."
His players are backing him, publicly at least, but Solbakken must remain the most likely Championship manager to next depart his club. That is unless our friend Shebby Singh, whose name was chanted yesterday at Hillsborough, makes another of his big mistakes.
It appears Mrs Desai doesn't want to upset the apple cart with them being on such a good run so caretaker boss Gary Bowyer, who isn't interested in the job, will carry on. Shebby won't be happy; he'd promised an appointment by yesterday.
That promised appointment might well have been the Legend in his own Mind Peter Taylor. Meanwhile, there's still no news of Paul Agnew and Derek Shaw following their trip to Pune but Venky's did send their fans a New year message that sounded more like them being told to turn up and get behind the players and management."
They have dipped their toe in the transfer market today and completed the permanent signing of Josh King from Manchester United.
As for Bolton, nothing's changed there. The new manager is pointing fingers at the referee for defeats just as did the previous man, this time wanting to know why they weren't awarded a penalty for a foul of David Ngog.
They even speak the same words. Yesterday, after losing at Leeds, Dougie Freedman said: "It was disappointing not to come away with the three points, as our performance MERITED the win."
At either end of the league, Cardiff are now seven points clear of Hull at the top. They won at Birmingham as Hull were held to a 0-0 draw at Blackpool. Down at the bottom of the league, Peterborough pulled out of the relegation places, beating bottom club Barnsley 2-1 in a controversial game at London Road. Bristol City are next to bottom and Sheffield Wednesday now return to take Peterborough's place after losing to us.
There's a week off now while we all enjoy the magic of the cup. That takes us to Barnsley where David Flitcroft is currently in charge following the dismissal of Keith Hill over Christmas. Flitcroft is being assisted by former Claret Micky Mellon who himself lost his job at Fleetwood recently.
The New Year's Day results and stats are below with the leading goalscorers, each club's disciplinary record (with Burnley still leading the way with yellow cards), the highest and lowest attendances and the next league fixtures.
The Results
Tuesday 1st January

Birmingham City 0 Cardiff City 1

Leeds United 1 Bolton Wanderers 0

Blackburn Rovers 3 Nottingham Forest 0

Leicester City 6 Huddersfield Town 1

Blackpool 0 Hull City 0

Millwall 2 Bristol City 1

Crystal Palace 3 Wolverhampton Wanderers 1

Peterborough United 2 Barnsley 1

Derby 3 Middlesbrough 1

Sheffield Wednesday 0 Burnley 2

Ipswich Town 0 Brighton & Hove Albion 3

Watford 3 Charlton Athletic 4
The Stats

Biggest Win

Leicester City 6-1 v Huddersfield Town (home)

Total Goals Scored

38 (23 home - 15 away)

Player Scoring Most Goals
2
Yann Kermogant (Charlton Athletic)
Anthony Knockaert (Leicester City)
Andre Moritz (Crystal Palace)
Chris Wood (Leicester City)

Highest Attendance

25,913 - Leicester City v Huddersfield Town

Lowest Attendance

7,339 - Peterborough United v Barnsley

Total Yellow Cards

42

Total Red Cards

0

Most Cards in a Game

Peterborough United v Barnsley (7Y) Ref: Darren Drysdale
Leading Goalscorers (League Only)

22

Glenn Murray (Crystal Palace) - includes 7 penalties

20

Charlie Austin (Burnley) - includes 3 penalties

15

Luciano Becchio (Leeds United) - includes 4 penalties
Jordan Rhodes (Blackburn Rovers) - includes 1 penalty, 2 with Huddersfield Town

13

Tom Ince (Blackpool) - includes 3 penalties
Chris Wood (Leicester City) - 11 with Millwall

12

Marlon King (Birmingham City) - includes 3 penalties
David Nugent (Leicester City) - includes 1 penalty
Matej Vydra (Watford) - includes 2 penalties

11

Craig Mackail-Smith (Brighton & Hove Albion) - includes 2 penalties

10

DJ Campbell (Ipswich Town)
Troy Deeney (Watford)

9

Sam Baldock (Bristol City) - includes 4 penalties
Sylvan Ebanks-Blake (Wolverhampton Wanderers) - includes 2 penalties
Scott McDonald (Middlesbrough)
Billy Sharp (Nottingham Forest) - includes 2 penalties

8

Sone Aluko (Hull City)
Craig Davies (Barnsley) - includes 1 penalty
Steven Davies (Bristol City) - includes 2 penalties
Lukas Jutkiewicz (Middlesbrough)
Theo Robinson (Derby County)
Hat Tricks
Date

Player & Game

01/09/12

3: Pete Whittingham - CARDIFF CITY v Wolverhampton Wanderers

15/09/12

3: Charlie Austin - BURNLEY v Peterborough United

22/09/12

3: Glenn Murray - CRYSTAL PALACE v Cardiff City

22/09/12

4: Craig Davies - Birmingham City v BARNSLEY

23/09/12

3: David Nugent - LEICESTER CITY v Hull City

29/09/12

3: Emile Sinclair - Hull City v PETERBOROUGH UNITED

02/10/12

3: Charlie Austin - BURNLEY v Sheffield Wednesday

23/10/12

3: Marlon King - Millwall v BIRMINGHAM CITY

06/11/12

3: Glenn Murray - CRYSTAL PALACE v Ipswich Town

17/11/12

3: Jordan Rhodes - Peterborough United v BLACKBURN ROVERS
Disciplinary Record (League and Cup)

Club

Y

R

Y

R

Club

Y

R

Y

R

League

Total

League

Total

Barnsley

37

1

40

2

Huddersfield Town

46

4

47

4

Birmingham City

37

3

39

3

Hull City

29

1

29

2

Blackburn Rovers

32

0

32

0

Ipswich Town

33

0

33

0

Blackpool

36

0

36

0

Leeds United

45

2

50

2

Bolton Wanderers

48

1

50

1

Leicester City

29

1

29

1

Brighton & Hove Albion

32

1

33

1

Middlesbrough

34

0

39

0

Bristol City

34

0

36

0

Millwall

47

2

49

2

Burnley

48

1

54

1

Nottingham Forest

44

4

44

4

Cardiff City

45

2

47

2

Peterborough United

42

1

43

1

Charlton Athletic

41

1

41

1

Sheffield Wednesday

46

1

49

1

Crystal Palace

38

2

42

2

Watford

47

4

48

4

Derby County

31

1

32

1

Wolverhampton Wanderers

26

1

28

1
Highest and Lowest Attendances

Highest

Lowest

Att

Fixture

Att

Fixture

28,707

Nottingham Forest v Derby County (30/09)

5,435

Peterborough United v Bristol City (18/09)

28,595

Wolverhampton W v Ipswich Town (29/12)

5,633

Peterborough United v Blackpool (01/12)

28,582

Sheffield Wednesday v Leeds United (19/10)

5,997

Peterborough Utd v Blackburn Rovers (17/11)

28,229

Middlesbrough v Sheffield Wednesday (09/11)

6,188

Peterborough United v Millwall (21/08)

27,437

Derby County v Sheffield Wednesday (18/08)

6,348

Peterborough Utd v Huddersfield Town(23/10)

26,727

Brighton & Hove Albion v Watford (29/12)

6,600

Peterborough Utd v Bolton Wand (23/12)

26,684

Brighton & HA v Nottingham Forest (15/12)

6,612

Peterborough Utd v Middlesbrough (08/12)

26,670

Nottingham Forest v Leeds United (26/12)

7,339

Peterborough Utd v Bristol City (01/01)

26,598

Sheffield Wed v Bolton Wanderers (22/09)

8,088

Barnsley v Bristol City (01/09)

26,594

Brighton & HA v Sheffield Weds (14/09)

8,195

Barnsley v Crystal Palace (23/10)
The Next Fixtures
Friday 11th January

Wolverhampton Wanderers v Blackburn Rovers

Saturday 12th January

Barnsley v Leeds United

Charlton Athletic v Blackpool

Bolton Wanderers v Millwall

Huddersfield Town v Birmingham City

Brighton & Hove Albion v Derby County

Hull City v Sheffield Wednesday (17:20)

Bristol City v Leicester City

Middlesbrough v Watford

Burnley v Crystal Palace

Nottingham Forest v Peterborough United

Cardiff City v Ipswich Town