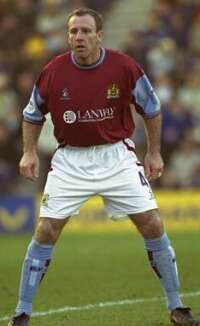 Kevin Ball - Man of the Match
I always have thought that the play offs were a more realistic target than an automatic promotion even when we were top of the league but as I sat through tonight's game I really did start to wonder just whether we could remain in the top six.
For years our home form has kept us in better positions in the league but we have now won just eight of seventeen home games and in the last five have picked up just two points and scored two goals. For most of those five games we have hardly looked as though we might score a goal.
Birmingham's 1-0 win tonight has put them within four points of the Clarets with a game in hand but don't be fooled, they were anything but a good side. These two sides gave us a superb game of football earlier in the season at St. Andrews but neither looked capable of getting anywhere near repeating it tonight.
The attendance was low, a lot lower than we would have expected but with the club's "Is it on, is it off" comments during the day is it any surprise people didn't set off. After last week's fiasco I know of a number of people who weren't prepared to risk it especially when all the club would say was they were hopeful. The attendances all season have been a massive disappointment and tonight's will have only added to those disappointments. Not as though our opponents helped, the away support was nothing short of embarrassing it was so small.
Stan had asked the fans to get behind the players but once again the atmosphere was poor with only the presence of a former Blackburn player creating any response. That is apart from the stick once again aimed at Graham Branch who not for the first time looked like a fish out of water at left back. Again Stan saw fit to take him off at half time after another dreadful 45 minutes.
He wasn't the first to go though, Paul Cook was taken off as we changed from 4-5-1 to 4-4-2 having fallen behind. Quite what Cooky had done wrong I'm not sure but it seemed more logical to remove Branch at that point in the game.
When he was finally substituted he was replaced by Steve Davis who was making his first appearance at any level since last October and that's how he looked. This is not meant as a criticism of Steve at all but I think everyone was surprised to see him on the bench so soon and that at the expense of Arthur.
I can't remember ever having a shot on goal that really troubled the Birmingham keeper despite having a lot more of the possession. The same could not be said at the other end where the visitors did seem to be a lot keener to have a shot at goal and troubled Marlon on more than one occasion. In fact Marlon celebrated his second month with a reasonably good performance.
Earlier in the season on ITV Sport John Barnes ruled out any chances of us winning automatic promotion because he said we had to score at least two goals to win a game. It is a fact that we just don't seem capable of keeping a clean sheet at the moment.
We had just been on an unbeaten run of five games without really playing particularly well in any of the five games. To be honest it is some time now since we did really play well in a game and probably at Preston in December.
We have allowed Birmingham right back into the play off race tonight when a victory would have seen them 10 points behind us, Preston's win too has brought them within seven points of us.
We have done ourselves no favours tonight and we cannot afford many more performances like this or we really will be struggling to make a top six place. Mind you others do seem to want to help us and West Brom, Coventry and Norwich have all managed to lose tonight so at least the damage is minimal. There is going to have to be a major improvement in form though at home if we are to get a top six place. Those remaining six home games still include the visits of Wolves, Norwich, Preston and Coventry and it is not going to be easy to turn it round but it has to be done.
Did anyone play well tonight? Marlon did everything that was expected of him but for me there really was only one Man of the Match and he was also the sponsor's choice Kevin Ball. I'm sure if everyone out there had shown the same attitude as Bally then we would have been picking up another three points. He might not have been at his best but his sheer determination to get something from the game saw him winning balls in both boxes and in the midfield throughout the second half.
Referee Harris showed us just why he was axed from the Premiership. His performance tonight was just about as incompetent as it can get. He really didn't seem to have a clue what was going on at times although we can be thankful that he doesn't bother when players kick the ball away. Had he bothered then we would have spent around three quarters of this game with ten men after Gareth Taylor reacted to a decision against him and this after he had already seen yellow.
A draw tonight would not have been a disaster but now we really do have to find our form at home and beat Norwich on Saturday. To be honest we can only assume they will be better than a very poor Birmingham side.
The teams were,
Burnley: Marlon Beresford, Dean West, Ian Cox, Kevin Ball, Graham Branch (Steve Davis 45), Glen Little, Paul Weller, Lee Briscoe, Paul Cook (Ian Moore 31), Alan Moore (Robbie Blake 69), Gareth Taylor. Subs not used: Mark McGregor, Brad Maylett.
Birmingham City: Ian Bennett, Jeff Kenna, Darren Purse, Michael Johnson, Martin Grainger, Paul Devlin (Nicky Eaden 78), Bryan Hughes, Darren Carter, Curtis Woodhouse (Stan Lazaridis 52), Stern John, Tommy Mooney. Subs not used: Nico Vaesen, Geoff Horsfield, Graham Hyde.
Referee: Rob Harris (Isle of Wight).