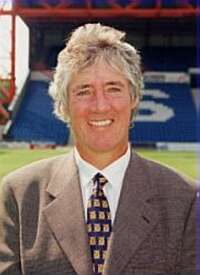 HELL-WOOD
The article is penned my Todd Morden and can be found on the excellent
London Clarets
web site. Click
HERE
to read the article. It suggests that tomorrow we could be paying our last ever league visit to Edgeley Park (I really hope you are not building my hopes up too much) and as such we should wave them farewell.
The article even suggests that our hosts tomorrow have concentrated on becoming widely known as football's least professionally run outfit, and in the Land of the Unprofessionals too.
But it is this idea of a wave good bye to them that I think is brilliant, and I'm sure with say around five minutes of the game to go, with a suitable song to go with it, then a wave would be an excellent idea. Please though save a special wave for that offensive man who will be sat in the directors' box the Unprofessional Chairman Mr. Brendan Hell-Wood.
Stan has described this as a must win game and I couldn't agree more, I have really had it with this outfit. I can't personally hide my delight at them going out of this division and I will be taking a very close look next season as Palmer takes them right to the bottom of Division Two.
So you can rest assured I'll be joining in with this farewell wave to the Unprofessionals.