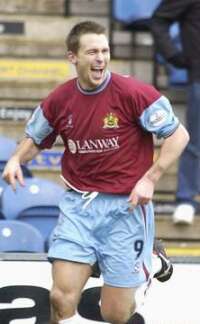 Gareth Taylor - suspension completed
Of course it is the match between Ternent and Warnock and Stan did nothing to build bridges yesterday when he called Warnock a cheat. In one of the most amazing of outbursts on an official web site I have seen Stan said,
"I don't like Neil Warnock and I think he dislikes me, but the reason I don't like him is because I think he cheated last season, which is well documented."
He chose not to comment directly about the incidents last week in their match against West Brom but added, "What goes around comes around. He said that he has been treated like Bin Laden, but if he gets off with this, he should be called Harry Houdini."
Warnock is apparently to sit in the stand this afternoon so there should be no problems in the dug outs but I'm surprised that he is still manager of Sheffield United after last week's disgrace.
But to the team news and the lack of and conflicting information from the Turf. Firstly there is Paul Weller and Stan said last Sunday evening on TV after the Preston game that he was going into hospital on the Monday with a knee problem. In the build up to the Bradford game he was quoted on the official web site as saying that Paul had not had anything done and was in the squad. No Paul Weller though and our sources suggest that he did in fact have an operation last Monday. It was even suggested to us that Paul would not be fit for any of the remaining six league games and was targeting the play offs for a return.
There was no Alan Moore on Wednesday, just missing from the squad after playing well against Preston. Nothing was or has been said about his absence but we saw him on Wednesday lunchtime ahead of the Bradford City game limping badly and clearly unfit to play. We don't have a clue whether Alan is now fit or not.
Two players who are doubtful are Steve Davis and Glen Little and that has come officially from the club. Davis is unlikely to recover from the calf injury he picked up at Stockport two weeks ago and Glen Little spent the whole of yesterday in bed after coming off on Wednesday with flu like symptoms.
Gareth Taylor will be back in the squad to face his old club having completed a two match suspension although I think he might have to start this one on the bench.
In looking at a starting line up I have assumed that Weller, Alan Moore, Little and Davis will all be unavailable and I think we could line up something like: Marlon Beresford, Dean West, Ian Cox, Mitchell Thomas, Lee Briscoe, Kevin Ball, Paul Gascoigne, Tony Grant, Paul Cook, Ian Moore, David Johnson. Subs: Nik Michopoulos, Gordon Armstrong, Andy Payton, Brad Maylett, Robbie Blake.
Sheffield United claim to have brought in their own 'Hand of God' to help them this afternoon and are hosting Sheffield Clergy Day with 21 local clergymen. Apparently they have always won when the Bishop of Sheffield, Jack Nicholls, has attended but there is a first time for everything.
There has been speculation that Peschisolido could miss the game but the Blades have said that he will play with a foot injury and will remain on the pitch as long as possible. Two players made debuts on Tuesday for them, Frenchman Jean-Phillipe Javary and loan signing from Portsmouth Steve Lovell. On the bench was Grant Smith who is still to play first team football. Smith, son of Brighton's Gordon (from 1983 Cup Final fame) had an excellent game in the reserve game at the Turf a couple of weeks ago.
Despite the strong rumours Sheffield United have not asked for this game to be changed to a six-a-side game and they are expected to line up with the same team that beat Millwall on Tuesday night namely,
Simon Tracey, Gus Uhlenbeek, Robert Page, Keith Curle, Shane Nicholson, Peter Ndolvu, Phil Jagielka, Michael Tongue, Jean-Phillipe Javary, Paul Peschisolido, Steve Lovell. Subs not used: Wilko de Vogt, Lee Sandford, Grant Smith, Laurent D'Jaffo, Nick Montgomery.
For more on Sheffield United see our Match Preview