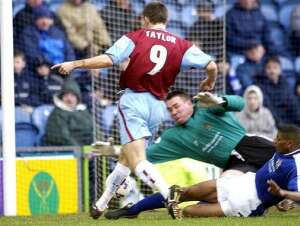 1-0, Gareth Taylor gives the Clarets the lead
Clarets Mad received a number of emails prior to the game after suggesting that Arthur and Alan Moore would be left out and Mark McGregor and Mitchell Thomas would be in the starting line up but as it was we were spot on – see
Team News
from yesterday.
It's not a win we should get too carried away with though, the performance was nothing to write home about. It was though a win against the worst side I have ever seen at this level. Make no mistake Carlton Palmer has done an incredible job here in being able to make a bad side so much worse in so little time.
It really makes you wonder just what the Clarets would have done to them had we been in the same sort of form as we had been in earlier in the season for Stockport were bad at the back, in midfield and up front. I'm not sure what sort of level they would be able to compete at with any degree of success but it is clear that it is not at any level within the Football League.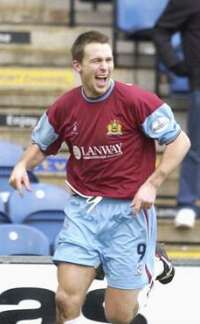 Gareth Taylor celebrates his 15th goal of the season
Many managers will tell you that at this stage of the season it is results and only results that matter and on a day that saw Millwall, Crystal Palace and Norwich all lose three points we have picked up do nothing other than strengthen our position in the play off places.
It wasn't our fault that the opposition were hardly worthy of the name but this out of sorts Burnley side did their very best to make hard work of it. In a first half that could hardly be described as exciting we hardly managed a worthwhile attempt at goal whilst at the back we were given virtually nothing to do.
Our new look full backs Mark McGregor and Mitchell Thomas had both done well and it was good to see Paul Weller finding some form again. If a goal had come in that first forty five minutes then Weller would have been the most likely source.
Marlon, making his 250th league appearance for the Clarets, must have had his easiest 45 minutes but it was certainly not going to get any more difficult for him.
There were a couple of bookings in the first half, one for each side. Mitchell Thomas was booked for an unintentional hand ball whilst referee Walton deemed a very bad foul by Woodthorpe warranted nothing more for Stockport's yellow card right on half time.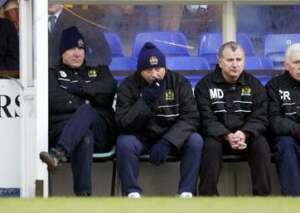 The Burnley bench don't look as though they are enjoying the game
One of by biggest complaints about referees is they nit pick over this and that, and he was to do it right at the end of the game again when he carded Ian Moore for something and nothing, but always seem to miss the bad foul. To his credit this referee did not miss it when it came in the second half. It was a diabolical and deliberate elbow by Stockport's Jon Daly on Mitchell Thomas and out came the red card.
Before Daly had started to leave the field Carlton Palmer was causing further trouble on the field, how on earth can these players be expected to show any discipline whatsoever with this idiot in charge of them? Palmer has been a very average footballer over his career and he looks all set to be a very much less than average manager. Having said that the Burnley supporters sat by me did tell me that he is very good at masturbation.
By the time the Unprofessionals were down to ten men the Clarets had finally taken the lead through Gareth Taylor. It was from a right wing cross, headed on, and Taylor at the second attempt stuck it in with his left foot.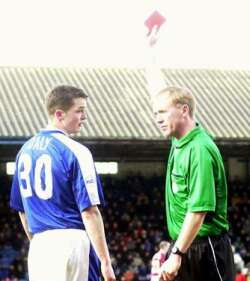 Daly gets a deserved red card
The game was wrapped up afterwards when Ian Cox disproved a theory that no Burnley player is capable of hitting a ball from outside the box when he scored with a shot from just over twenty yards.
After the second goal had gone in the game was played in a wonderful atmosphere that saw the home stands emptying very quickly and the stands housing the Burnley fans waving their goodbyes. I wonder if Mr. Hell-Wood turned his back on us again?
If so he missed them hitting the post in the last minute as Marlon went down like a sack of King Edward's. Marlon was up in time to celebrate his first Burnley clean sheet since a 1-0 win against Southend on 24th January 1998, a game won with Andy Payton's first Burnley goal. In honesty it would have been somewhat difficult for Marlon not to keep a clean sheet this afternoon given what he was asked to do.
We are three points better off than we were this morning and that had to be the one and only target for today. The performance though gave us no suggestions that the Clarets were back in any sort of form and there really will have to be an improvement before the Haunted David Moyes brings his boys next Sunday.
It has been another difficult day to find a man of the match but in the end I have gone for Paul Weller who played particularly well in the first half.
And finally a word for Stockport County. I am really disappointed that you beat Bradford City last Tuesday because without those points we would have relegated you this afternoon with our victory. I so wanted it to be us but I don't think you will have to wait much longer. Given your performance this afternoon I don't expect to see you again for quite some time, how wonderful that is.
The teams today were,
Unprofessionals: Andy Dibble, Andrew Thomas (Neil Hardy 69), Carlton Palmer, Dave Challinor, Ali Gibb, John Hardiker, Fraser McLachlan, Keith Briggs, Colin Woodthorpe, Luke Beckett, Jon Daly. Subs not used: James Spencer, Peter Wild, Philip Carratt, Neil Ross.
Burnley: Marlon Beresford, Mark McGregor (Brad Maylett 76), Steve Davis (Robbie Blake 89), Ian Cox, Mitchell Thomas, Paul Weller, Kevin Ball, Tony Grant (Paul Cook 85), Lee Briscoe, Ian Moore, Gareth Taylor. Subs not used: Nik Michopoulos, Andy Payton.
Referee: Peter Walton (Winwick, Northants) a referee who may be red card crazy but at least got it right for this deliberate elbow.