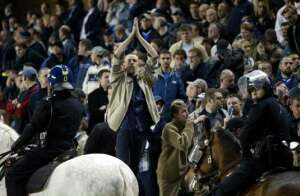 The police horses move in at the final whistle last night
The Cardiff fans were our last winners of the season and we expressed gratitude to Stoke for beating them and keeping them in the 2
nd
Division, a result that ensures that we won't be at Ninian Park next season for a league game.
No such luck though with Millwall and following their defeat last night to Birmingham they will still be in the 1st Division next season. Mark McGhee will still be boring us to death with his boring football but the Clarets fans will once again have to be brave and put on their safety gear if they want to go to the away game.
Last August it was terrifying as we were locked in a compound for a long period after the game with missiles, including full bricks, being thrown in at us. You have nowhere to go, and just have to be alert and do your best to avoid being hit. There appears to be no help from stewards, police or anyone else.
Well, needless to say they were at it again last night and tried to attack the jubilant Birmingham fans. The Brummies can usually look after themselves but this place is different and only the brave and very stupid would even contemplate getting involved.
It is getting worse though and apparently the problems last night were far worse than we encountered in riots that saw 50 police injured with six needing hospital treatment. Having said that the police do have an ability to exaggerate these sort of figures and will have included such things.
However there is no disguising the fact that the Birmingham fans, and the police, were attacked with bricks, paving stones, flares and fireworks whilst two of their fans had their cars set alight.
The police commander for Millwall, Chief Superintendent Mike Humphrey said afterwards,
"This is my seventh season as Commander for Millwall and this is the worst yet. Sixty people have been arrested over the course of this season for disorder. As we have done so before, we will be using video footage from this evening to pursue those responsible.

"Last night officers had paving slabs, bricks, fireworks and other missiles thrown at them, all in the name of football. We have been filming and we will find those responsible."
It is time that this sort of thing was stopped and the FA really do have to take some strong action against the clubs involved otherwise it will never stop. It is almost a regular occurrence at places such as the New Den and Ninian Park and it is no good heads going into the sand as we have already seen from the FAW.
Take sever action against the clubs now, close their grounds and deduct points next season. Make this sort of behaviour hurt them.