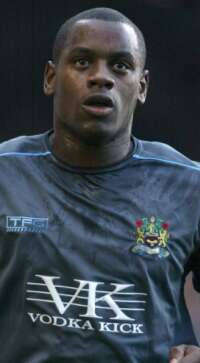 Delroy Facey - is he set for a Turf Moor return?
Yesterday Newcastle United midfielder Bradley Orr signed for an initial month on a loan deal that could be extended to three months and that was quickly followed by news from Turf Moor that there will be two more signings today – and both from the Premiership.
Needless to say that set the speculators and gossip mongers into overdrive and any number of players have been suggested as potential signings with names being mentioned in just about every position of the field imaginable.
Later today we will know just who they both are but for now we can only join in with those speculators and consider just who they could be.
There was no indication given as to whether the new players would be coming in on loan deals or permanent transfers and one of the first names in the frame was Delroy Facey who was with us on loan earlier in the season.
It could be that we have done a deal with Bolton and are taking over his contract for the rest of the season. Stan is known to be keen on the striker and with Robbie Blake out suspended when Gillingham come back to town a week on Saturday a striker could well be top of the shopping list.
But there are other options as far as forwards are concerned and the names of Aston Villa's Peter Crouch and Matt Jansen of Blackburn have been bandied about. Both have been targets in the past and according to Stan only the disturbances in the town prevented Crouch from becoming a Burnley player in the summer of 2001.
Charlton keeper Paul Rachubka is strongly linked
There are no barriers regarding signing players from Blackburn any longer and reports suggest that Graeme Souness is keen to get Jansen back out on loan again, he did have a spell at Coventry last season joining them because he thought they were close to his East Lancashire home.
And you can add Andrew Barrowman (Birmingham) and Charlton's Jonatan Johansson to the list of possibles.
On to defenders – you can take your pick with Manchester City's Gerard Wiekens, both Caldwell brothers from Newcastle and even Portsmouth's Eddie Howe getting more than a passing mention.
In midfield Michael Stewart's name has been added but Clarets Mad would not consider speculating on a deal for the Manchester United midfielder currently on loan with struggling Nottingham Forest but we do think that Birmingham's Darren Carter is perhaps a better option.
And that leaves the goalkeeping position which we would not expect to see strengthened. With Nathan Abbey having just joined the club it seems most unlikely but the name of Charlton's Californian stopper Paul Rabchuka is one that is very much in the speculation.
We could well have named both today's signings, we have probably mentioned neither, but with the announcement from Turf Moor today it was bound to trigger off some gossip and speculation.
It is going to be an interesting day.