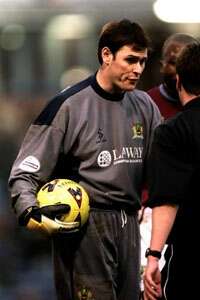 Marlon - released by Middlesbrough
They are Marlon Beresford at Middlesbrough and Carlisle's Mark Winstanley and neither of them will come as a surprise.
Marlon has said consistently for some time that he would be looking elsewhere at the end of his contract, that he wanted to go to a club for first team football after spending the last four years playing reserve team football and sitting on the bench.
Three times in the last season and a half he has been out on loan to Sheffield Wednesday, Wolves and the Clarets and there is still strong speculation that Marlon could be on his way back to the Turf for the start of next season.
Mark Winstanley is one of eleven players released at Carlisle as the Cumbrian club goes from one crisis to another. The 34 year-old central defender has been at Brunton Park for the past two seasons and has been a regular during the improvement that has seen them move away from the bottom. He played 71 league games for them and is now just 16 games short of 500 league appearances for Bolton, Burnley, Shrewsbury and Carlisle.
Besides these two Danny Sonner has not been offered a new deal as yet at Birmingham but having recovered from injury he is still hopeful that a new contract will be on the table for him.
There is no news of Kurt Nogan following his release from Cardiff but Tom Cowan has won himself a new contract and has signed for York City.