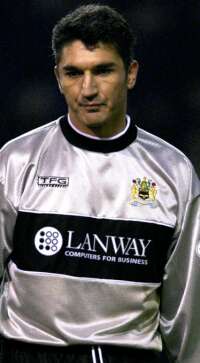 Nik Michopoulos - back in the team and in the team of the week
For goalkeeper Nik Michopoulos it is the second time this season he has found himself chosen as the best keeper although the previous occasion was after an outstanding performance for Crystal Palace whilst on loan.
Last week he was drafted in at the last minute when Marlon's girlfriend went into labour and turned in an excellent performance for the Clarets. This was Nik's third appearance since returning from Palace and he has conceded just one goal (against Ipswich).
He was somewhat unfortunate to be left out after the Grimsby cup tie and would certainly count himself very unlucky if he wasn't in the starting line up for the Fulham game.
Another player returning to the team was Ian Cox and he is the second of our players to be selected. It really was Coxy back at his best. He was playing so well up to his hamstring injury but on his return had some under par performances. He looked back to his best last week playing alongside Driss Diallo for the first time.
Again though there is no place for Driss. What does he have to do to impress enough to get into this team?
The team was,
Nik Michopoulos (Burnley), Craig Fleming (Norwich), Ian Cox (Burnley), Robert Page (Sheffield United), Darren Ward (Watford), Gareth Ainsworth (Franchise), Alan Pouton (Grimsby), Paul Merson (Portsmouth), Muzzy Izzet (Leicester), Michael Boulding (Grimsby), Darren Bent (Ipswich).

There was an ex-Claret in the 3rd Division team, Chris Brass for his performance at Leyton Orient as York won 1-0. The winner was scored by Anthony Shandran who is currently on loan from the Clarets.

Congratulations to both Brassy and Shandy.