Bolton Wanderers, a founder member of the Football League have been relegated from the SKY Bet Championship. following a 4-1 hiding at the hands of promotion seeking Derby County.
The Trotter's interim manager Jimmy Phillips has admitted the meek display epitomised a wretched campaign for the Horwich based outfit.
Johnny Russell netted twice for the Rams. Tom Ince and Jacob Butterfield added the other two goals in a win that virtually seals a place in the play-offs for the Rams.
Local lad Zach Clough scored a consolation goal for the Trotters from the penalty spot as Bolton freefalled from out of England's top two divisions for the first time in 23 years.
Jimmy Phillips has seen his team concede 14 goals during his tenure of only four games in charge of the Macron side. Phillips found it difficult to hide his disgust after the final whistle at Derby's iPro Stadium.
The travelling Bolton fans who witnessed another gutless performance had displayed a banner showing the message, "No Effort, No Hope". The message fully reflected yet another wretched away performance from the Wanderers.
Phillips commented, "Today was confirmation of the season everyone has witnessed." "We played a Derby team that were first to every ball."
"It was only when Emile Heskey came on that we had any attacking intent or threat, and he's 38 years of age. That just about sums this season up, it has gone from bad to worse".
Phillips added, "We have tried a combination of giving the younger players a chance, reverting today to a more experienced team, we have tried different formations and tactics and as yet we have not had a response."
Owen Coyle famously remarked that Bolton Wanderers Football Club were ten years in front of the neighbouring Clarets. A team he jumped ship from to return to a club where he regarded himself as a legend.
Relegation marks the pinnacle of a 2015-2016 campaign beset with irresolvable problems, both on and off the pitch for the Trotters. The legacy of Coyle is left for all to see. Coyle's offers of unaffordable player contracts, an unimaginably high wage bill and poor selection of purchases have all left their mark.
Phillips went on to say, "It has been a really sad year." "The only positive thing we can say about this season is that we still have a club left, at one point even that was in some doubt."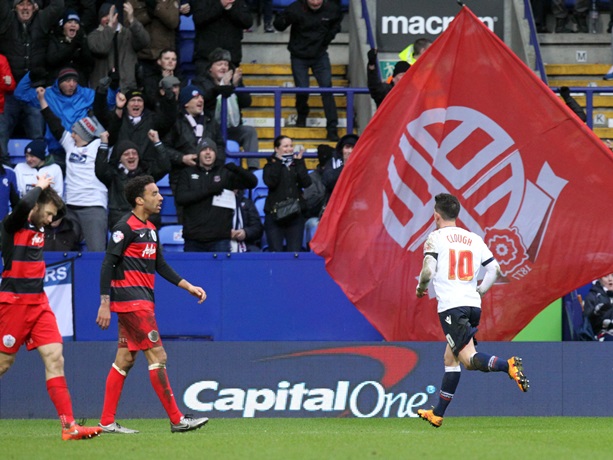 Photo source: Footymad.
"That is the only clear cut positive thing I can say, right now."
Phillips expressed sympathy for the 400 plus Trotter's entourage of fans who made the trip to Derby County knowing that relegation was almost a certainty.
"I feel really sorry for them," Phillips commented, "Again we have a good travelling support and again we haven't even stayed in the game until half time."
Former Bolton player and current Southend United manager, Phil Brown is very much the fans' favourite to take over at the helm.
Clarets Mad however have an "inside source" at the Macron Stadium. We can now offer you a global exclusive to inform you that the newly appointed and ambitious Chief Executive at Bolton, former Wimbledon star striker Dean Holdsworth, has his sights set firmly on a big name to move the club forward.
Roy Keane has said he wants a return to club management. Bolton Wanderers are willing to provide him with the opportunity immediately the Republic of Ireland's involvement in the European Championship finals comes to a close.
You heard it here first folks! (TEC)