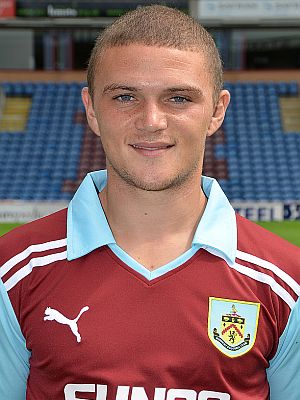 He had an outstanding game against the club he played for on loan last season, offering a lot in attack in a game that the Clarets dominated, and his performance won him both the man of the match and the player ratings where the top six were the same in both.
He was a clear winner in the man of the match vote, polling 41.2% and that was some way clear of Dean Marney who came in second with a 24.2% share. Jay Rodriguez, who scored the opener, took third place with 9.4% of the vote.
It was just the same story in the player ratings with Trippier again on top with a rating of 8.25 out of 10. A rating of 8.14 game Marney second place and Rodriguez was again third with a rating of 7.86 out of 10.
That result gives Trippier six points towards the Clarets Mad Player of the Year; there are four points for Marney and two for Rodriguez.
Those points have proved crucial. They have taken Trippier into first place in the player of the year table, a couple of points clear of Rodriguez. Those two are now pushing ahead with Jay having a seven point lead on Marvin Bartley who is in third place.
Marney, who has had a terrific run in the last couple of months, has continued to move forward. He's now fifth and just one point behind goalkeeper Lee Grant who holds fourth place.
We'll have the result from the Reading game tomorrow but below is the result from last Tuesday's win against Barnsley and the current player of the year table.
Man of the Match
41.2% - Kieran Trippier (162 votes)
24.2% - Dean Marney (95 votes)
9.4% - Jay Rodriguez (37 votes)
7.4% - Josh McQuoid (29 votes)
5.3% - Michael Duff (21 votes)
3.8% - David Edgar (15 votes)
3.1% - Ross Wallace (12 votes)
2.5% - Charlie Austin (10 votes)
1.3% - Chris McCann & Ben Mee (5 votes)
0.5% - Lee Grant (2 votes)
Player Ratings
8.25 - Kieran Trippier
8.14 - Dean Marney
7.86 - Jay Rodriguez
7.25 - Josh McQuoid
7.22 - Michael Duff
7.19 - David Edgar
6.94 - Chris McCann
6.81 - Ross Wallace
6.75 - Ben Mee
6.72 - Charlie Austin
6.50 - Lee Grant
Clarets Mad Player of the Year
58: Kieran Trippier
56: Jay Rodriguez
49: Marvin Bartley
37: Lee Grant
36: Dean Marney
31: Charlie Austin
29: David Edgar
25: Ross Wallace
22: Andre Amougou & Chris McCann
21: Michael Duff & Ben Mee
17: Keith Treacy
9: Brian Easton
5: Wade Elliott & Junior Stanislas
2: Martin Paterson
1: Zavon Hines