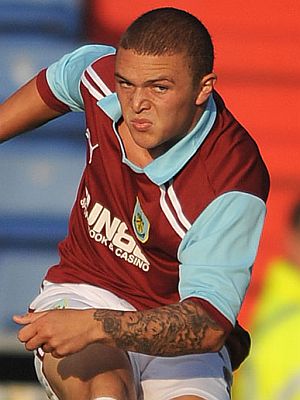 Today that news has finally been confirmed and Trippier, who was unbelievably red carded yesterday, has joined Burnley on a three and a half year deal that will take him until the end of the 2014/15 season.
The 21-year-old initially joined Burnley during pre-season. With Tyrone Mears set to move to Bolton, Eddie Howe moved in quickly to acquire him on a season long loan.
He'd previous experience in the Championship with Barnsley and he quickly settled down and established himself in the Burnley team, so much so that when he sits out next Saturday's FA Cup tie at Norwich because of suspension it will be the first game he will have missed this season.
The news has been received positively by supporters today and manager Eddie Howe said: "We are absolutely delighted to have Kieran on board. He has been a really huge part of our team, how we have played this year and how we want to go forward.
"He has just got better and better and I can't speak highly enough of him as a person and as a footballer.
"We are extremely grateful to Manchester City for trusting us and allowing Kieran to come here in the first place. In the majority of cases, whenever we take loan players it's with a view to taking them permanently because I think that's the best way to use the loan system.
"The only debate was whether Manchester City were prepared to let him go. That was always going to be a sticking point, so we are absolutely delighted to get him."
"I'm delighted to have signed," Trippier himself said. "The manager said he was very interested in buying me and I didn't have to think twice about it because I am enjoying my time here.
"It's emotional to leave City after being there for 13 years but I spoke to the manager there and he said I probably wasn't going to get an opportunity. I have got to move on and take a step forward and I think I can do that with Burnley, especially with the manager we have. I can only improve."
He added: "There was a lot of expectation when I came here after following Tyrone Mears. They were big boots to fill but I think I have done that.
"I signed a long deal with Burnley because I think we can go forward. The players believe it and the manager and the staff believe it and I think it can come sooner rather than later.
"There is a lot of ambition here to get back into the Premier League and I think we can do it."
Trippier's deal, ties him to the Clarets beyond the contracts of any of our other players other than Danny Ings who too is contracted until the end of the 2014/15 season.