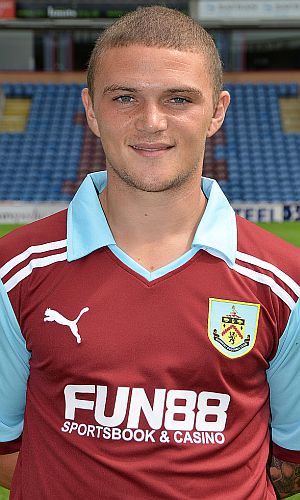 He's taken the title in what was a much closer contest this season compared to a year ago when Jack Cork won it from Chris Eagles by a margin of 28 points. It was still undecided going into the last game but once Lee Grant was omitted no one could pass the right back who joined the Clarets only last summer, initially on loan, from Manchester City.
He won neither the man of the match nor the player ratings in this game but finished second to Danny Ings in both (with Marvin Bartley taking both third places) but over the season he's been voted man of the match whilst topping the player ratings twice, in the home wins against Barnsley and Brighton.
But he's been consistent and most games has been up towards the top of both, and such has been his form that he's played every league game with the cup tie at Norwich the only game he's missed all season.
He shared the awards with Jay Rodriguez last week at the supporters' player of the year evening and the pair were running neck and neck until Jay suffered an injury that kept him out towards the end of the season.
Trippier is, without doubt, a deserving winner, and joins nine other players who have won the award (Robbie Blake having won it twice).
Now we await the winner of the Goal of the Season for which there will be a vote next week.
Below is the result from the Bristol City game, the final Clarets Mad Player of the Year Table and a list of winners since 2001/02.
Man of the Match
29.1% - Danny Ings (71 votes)
28.7% - Kieran Trippier (70 votes)
12.7% - Marvin Bartley (31 votes)
9.8% - Brian Jensen (24 votes)
4.1% - Michael Duff (10 votes)
3.3% - Danny Lafferty & Jay Rodriguez (8 votes)
2.0% - David Edgar, Junior Stanislas & Ross Wallace (5 votes)
1.6% - Dean Marney (4 votes)
0.8% - Charlie Austin (2 votes)
0.4% - Chris McCann (1 vote)
Player Ratings
7.06 - Danny Ings
6.94 - Kieran Trippier
6.46 - Marvin Bartley
6.23 - David Edgar
6.20 - Michael Duff
6.03 - Brian Jensen
5.94 - Charlie Austin
5.89 - Jay Rodriguez
5.86 - Danny Lafferty
5.51 - Dean Marney
5.34 - Chris McCann
5.26 - Ross Wallace
5.14 - Junior Stanislas
Clarets Mad Player of the Year 2011/12
73: Kieran Trippier
67: Lee Grant
63: Jay Rodriguez
62: Dean Marney
55: Marvin Bartley
51: Charlie Austin
50: Michael Duff
35: David Edgar
31: Chris McCann & Ross Wallace
25: Ben Mee
22: Andre Amougou
18: Danny Ings
17: Keith Treacy
11: Brian Easton & Junior Stanislas
5: Wade Elliott
3: Danny Lafferty
2: Martin Paterson
1: Zavon Hines & Josh McQuoid
Clarets Mad Player of the Year Winners
2001/02: Arthur Gnohere
2002/03: Graham Branch
2003/04: Robbie Blake
2004/05: Gary Cahill
2005/06: Ade Akinbiyi
2006/07: Eric Djemba-Djemba
2007/08: Wade Elliott
2008/09: Robbie Blake
2009/10: Chris Eagles
2010/11: Jack Cork
2011/12: Kieran Trippier