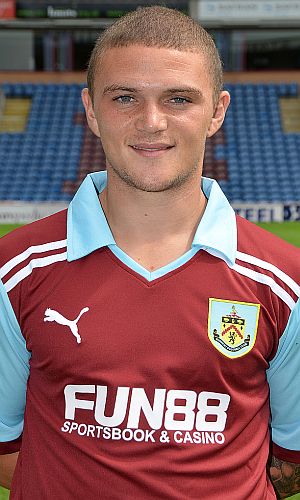 Kieran Trippier is back on top after Brighton game
We were one of five teams to get two wins and in the first of them, the Brighton battle, right back Kieran Trippier was voted our best player.
He was a comfortable winner in the man of the match vote, polling 31.5% of that vote. Behind him was Michael Duff with 15.7% and Danny Ings came third with a 13.2% share.
Trippier was the only one of those three players to make the top three in the player ratings. Here his rating of 7.80 out of 10 was enough to give him the points ahead of Charlie Austin who was second with a rating of 7.73. Goalkeeper Lee Grant took third place and his rating was 7.28 out of 10.
Three days later we followed up that win with a 2-1 success at League One bound Doncaster and just as Trippier had done, Austin followed suit by winning both the man of the match and player ratings.
Charlie scored the winning goal from the penalty spot, his first Burnley penalty, but he had an overall outstanding game. He won 25.7% of the man of the match vote against Dean Marney, recalled and playing well in the midfield, who was second with 16.2%. Josh McQuoid, who scored the spectacular opener took a 14.5% share of the vote.
The player ratings again saw Austin the winner with a rating of 7.91 out of 10. Marney again was second (7.45) whilst a rating of 7.18 gave Ings second place.
Austin, over the two games, won eight points towards the Clarets Mad Player of the Year, Trippier won six points and Marney four points. Both Duff and Ings won two points whilst Grant and McQuoid received one point each.
Those points have taken Trippier back to the top of the table with a three point lead over Jay Rodriguez. With Jay currently out of the side it leaves Trippier now as the clear favourite to win the title won last year by Jack Cork.
Just below them, Grant retains third place but Marney is now just one point behind him with Bartley a further three points behind. Those five players are now, realistically, the only players who could win the player of the year.
The vote for the Coventry game will get underway this evening, approximately an hour after the final whistle.
The results of both the Brighton and Doncaster games are below with the current player of the year table.
Man of the Match v Brighton
31.5% - Kieran Trippier (74 votes)
15.7% - Michael Duff (37 votes)
13.2% - Danny Ings (31 votes)
12..8% - Charlie Austin (30 votes)
6.8% - Junior Stanislas (16 votes)
5.1% - Lee Grant (12 votes)
4.7% - Ross Wallace (11 votes)
3.4% - David Edgar (8 votes)
2.1% - Chris McCann (5 votes)
1.7% - Marvin Bartley & Josh McQuoid (4 votes)
1.3% - Dean Marney (3 votes)
Player Ratings v Brighton
7.80 - Kieran Trippier
7.73 - Charlie Austin
7.28 - Lee Grant
7.15 - Danny Ings
7.10 - Junior Stanislas
7.05 - Michel Duff
6.90 - Marvin Bartley
6.85 - Ross Wallace
6.83 - David Edgar
6.78 - Chris McCann
6.70 - Dean Marney
6.30 - Josh McQuoid
Man of the Match v Doncaster
25.7% - Charlie Austin (46 votes)
16.2% - Dean Marney (29 votes)
14.5% - Josh McQuoid (26 votes)
10.6% - Danny Ings (19 votes)
8.9% - Junior Stanislas (16 votes)
7.3% - Kieran Trippier (13 votes)
5.6% - Michael Duff (10 votes)
3.4% - David Edgar & Ross Wallace (6 votes)
2.2% - Lee Grant & Chris McCann (4 votes)
Player Ratings v Doncaster
7.91 - Charlie Austin
7.45 - Dean Marney
7.18 - Danny Ings
7.09 - Lee Grant
7.00 - Michael Duff
6.91 - David Edgar & Ross Wallace
6.64 - Chris McCann
6.45 - Josh McQuoid & Junior Stanislas
5.73 - Kieran Trippier
Clarets Mad Player of the Year
66: Kieran Trippier
63: Jay Rodriguez
57: Lee Grant
56: Dean Marney
53: Marvin Bartley
45: Charlie Austin & Michael Duff
31: David Edgar & Chris McCann
27: Ross Wallace
25: Ben Mee
22: Andre Amougou
17: Keith Treacy
12: Danny Ings
11: Brian Easton & Junior Stanislas
5: Wade Elliott
3: Danny Lafferty
2: Martin Paterson
1: Zavon Hines & Josh McQuoid