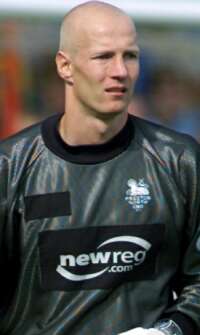 Tepi Molianen - in goal for Preston
Burnley have named a strong line upfor tonight's game. In contrast to occasions this season when there have been reserve teams with no first team experience whatsoever, tonight nine of the squad have played in the Football League for the Clarets including Anthony Shandran who returns from injury and plays for the first time this season.
Arthur Gnohere and Mark McGregor both play after completing suspensions as does Ian Cox who is on his way back from the hamstring injury he sustained at Deepdale. There are also places for four of Saturday's first team subs, the exception being Alan Moore.
We also have a trialist on view, winger Peter Douala, although we have no further information on the player.
The Clarets will line up: James Salisbury, Andy Leeson, Mark McGregor, Arthur Gnohere, Ian Cox, Tony Grant, Peter Douala, Gordon Armstrong, Ian Moore, Dimitri Papadopoulos, Brad Maylett. Subs: Mark Rasmussen, Matthew O'Neill, Anthony Shandran, Joel Pilkington, Andrew Waine.


The Preston team has been named and it does include Abbott and Broomes as previously suggested. They are not the only ones with extensive first team experience either as Tepi Moilanen plays in goal whilst Iain Anderson, scorer of Preston's goal at Burnley last season in the Nationwide League, lines up on the left hand side of midfield.
It looks very likely that, as was the case last season, brothers will be in opposition with Joe O'Neill named in the Preston side and brother Matthew expected to play for the Clarets.
The full Preston team is: Tepi Moilanen, Marlon Broomes, Paul Carvill, Kyle Armstrong, David Elebert, Alan McCormack, Iain Anderson, Michael Brown, Pawel Abbott, Joe O'Neill, John Bailey. Subs: Andrew Lonergan, George Kurwen, Darren Kempson, Michael Kewley, Ben Kitchen.