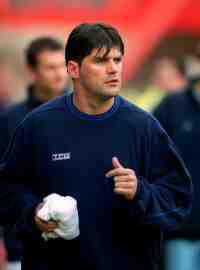 Andy Payton - looked sharp
The first goal came from Andy Payton with a header and it was good to see Andy back and looking sharp, surely he must be in contention for a starting place on Saturday. Another player who could certainly be in with a chance of playing is Spaniard Victor Manuel Torres Mestre who looked a quality player at left back. Don't be surprised if we were to sign him.
The game suddenly changed with ten minutes to go when West Brom surprisingly equalised but within a minute we were back in front and then added a third.
There was no doubting who got the third, Tony Ellis on as a sub for Andy Payton, but the second goal was not so clear cut. Tony Ellis knocked it goalwards but just as it was about to go in it was knocked in by either Matthew O'Neill or Andrew Waine. From my vantage point it looked like O'Neill but Andrew Waine was announced as the scorer over the public address. So Waine it is.
Peter Heywood's report will follow
Fixtures and results