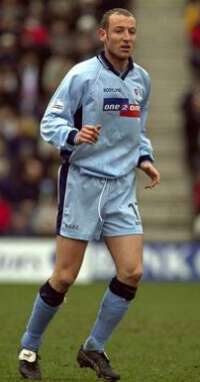 John Mullin - our last transfer deadline day signing
This is the week when managers across the country will be pressing the panic button and making last ditch signings to try and achieve that final push for promotion or the play offs or even in a bid to try and avoid relegation.
It is all a bit different this season with the final day being so early, it means that some clubs, as is the case with the Clarets, have just five games left. In past seasons that figure has at times been in double figures approaching a quarter of the season.
Recent history suggests the Clarets won't be making a move this week, in fact in all the previous seasons Stan has been manager there have been no new signings in transfer deadline week. His final signing last season was the loan signing of Gareth Taylor, in the promotion season it was Ian Wright whilst Paul Cook and Tom Cowan were the last signings as we fought against relegation in 1998/99. None of these were in transfer deadline week.
A year ago there was much speculation that Bournemouth's Eddie Howe was on his way but nothing materialised. His name won't go away though and once again it is being suggested that the Clarets are set to make a move for the player who is supposedly constantly on his way from Bournemouth.
It is certain that he is a player that Stan has been interested in so anything is possible. The central defensive position is giving great cause for concern at the moment and we never seem to have the same pairing from one game to the next. Steve Davis is injured and Coxy had to come off injured on Saturday. That left the outstanding Kevin Ball playing alongside Mitchell Thomas. Then of course there is Arthur but no one seems to know what has happened with him. There have been no reports of an injury, in fact he played in the last reserve team game, he just seems to have been banished from the first team.
Previous managers have made use of deadline day and Adrian Heath brought in three players in two years. In 1996 he signed Barnsley defender Charlie Bishop and striker Paul Mahorn from Tottenham. Bishop did a reasonable job at the back but Mahorn was far from impressive despite scoring on his debut in a 4-1 defeat at Wycombe.
The following year in came the even less impressive Steve Guinan from Nottingham Forest. Guinan failed to make any sort of impact and didn't start a single game. He looked a long way from being good enough during his substitute appearances.
Our last transfer deadline day signing was made by Chris Waddle who went to his old club Sunderland to bring in John Mullin on loan. As the Clarets struggled against relegation to the third division John made six appearances and four of those games were won with Andy Payton scoring the winning goal in all four.
However Mullin was sent off in his third game for pushing the referee after he had turned down a penalty appeal. He had to go but there was a huge amount of sympathy because the referee was Kevin Lynch who was without doubt the worst around. When the suspension started John was sent back to Sunderland, presumably to get him back off the wage bill.
There was talk of him signing on a permanent basis and that did finally happen although it was over a year later and long after Waddle had departed.
So we will all keep a check on the transfer market this week but don't expect any clubs to make big signings, that is all now in the past. I shouldn't hold your breath waiting for a Clarets signing though, unless of course it is Eddie Howe.