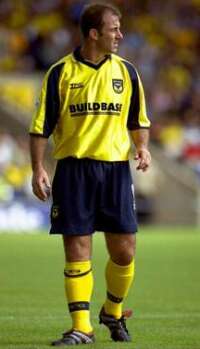 Phil Gray - occasional scorer for Oxford
Oxford went in front in their home game against Lincoln City after just 19 minutes and the scorer was Phil Gray. They were two up a minute later but in the end won the game 2-1.
This was only Gray's fourth goal this season in seventeen league appearances for Oxford and he also played three games for Boston during a loan spell with the Conference club without scoring.
He did though score the only goal of the game in a World Cup qualifier for Northern Ireland against the mighty Malta. I have to say he has done well this season for a player who just over a year ago was whinging because he thought he was too good to sit on our bench.
Also in the 3rd Division but earlier in the week it was a case of a tale of two penalties as two former Burnley players stepped up to take spot kicks in the same match.
Mark Yates opened the scoring for Cheltenham in their league game at Darlington after just five minutes. It was 2-0 at half time with a goal from Cheltenham's big tub of lard Julian Alsop but with just five minutes of the second half Darlington wasted a great opportunity to get back into the game when Mark Ford missed from the penalty spot.