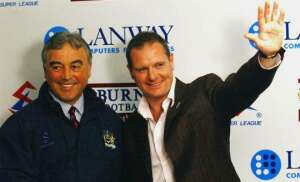 Stan welcomes the new signing
For anyone who has been on another planet for the past few days the new player is Paul Gascoigne, no not some imitation but THE Paul Gascoigne of England and practical joke fame. You don't believe it, you are hardly on your own. Clarets Mad are struggling to take it in as well but he is here honestly and is in the squad tonight.
It does look as though the addition of Gazza to the squad will be the only change although Stan has said he will give captain Steve Davis as long as possible. Davis picked up a calf injury at Stockport and missed the Preston game. Gareth Taylor is still out serving the second and last game of his suspension.
There is some confusion over Paul Weller. Stan said on TV on Sunday that Paul was going in to hospital on the Monday to clear up a knee problem. There was then a report that said he was out until the end of the season and finally Stan cleared it all up and said Paul didn't have the operation and is in the squad.
Kevin Ball is also in the squad after we incorrectly reported that he had received his tenth yellow card in the 1-0 defeat at Walsall. This has caught out both ourselves and the club's official site, both of us are still showing Bally has having received ten yellow cards (see our profile on Bally) but he has in fact only got ten yellows. It appears that somewhere along the way one referee has failed to report one of the cards.
I don't expect many changes if any but despite Stan's "Turn out to find out" comment when asked whether Gazza would start I think he will. Given that Weller and Ball are both available I think it could be Tony Grant who misses out and that being the case we will line up: Marlon Beresford, Dean West, Ian Cox, Mitchell Thomas, Lee Briscoe, Paul Weller, Kevin Ball, Paul Gascoigne, Alan Moore, Ian Moore, David Johnson. Subs from: Nik Michopoulos, Paul Cook, Tony Grant, Glen Little, Robbie Blake, Andy Payton.
It really is understandable not being able to take in the Gazza signing, just writing down the squad and including his name is hard to believe.
Bradford City will also include a new signing in their squad and he will be one of the substitutes. Yesterday they signed midfielder Michael Standing on a contract until the end of the 2004/05 season. Standing, celebrating his 21st birthday today, was released by Aston Villa last week. He had previously been at Brighton and joined Villa at the same time as Gareth Barry.
They have lost Simon Grayson who has completed his loan spell and returned to Ewood Park but David Wetherall returns from injury for the first time since October, He will come in to the centre of defence with Gunnar Halle moving to right-back to replace Grayson.
Other than that Bradford will have the same starting line up as the one that drew with Rotherham on Saturday at Millmoor. They are expected to start with: Alan Combe, Gunnar Halle, Stuart McCall, Wayne Jacobs, David Wetherall, Mark Bower, Jamie Lawrence, Lee Sharpe, Eoin Jess, Ashley Ward, Danny Cadamarteri.
There are two former team mates of Gazza there, McCall from Rangers and Cadamarteri from Everton but what do Bradford think of playing against our new signing?
Manager Nicky Law is unsure whether the signing might upset the team spirit at the Turf, he obviously doesn't know our squad, and said, "We'll take what comes, but we've no set plans to deal with any one player in particular.
"Gazza's arrival will probably give the whole place a lift. He's a character and everyone knows what he's like, but it could have an adverse effect. If they've got a settled squad there and they're all digging in and doing their bit and then a big name comes in there could be a bit of resentment come in. I don't know though. He's a decent enough lad from what I know of him and I'm sure he'll be a food addition to Burnley".

For more on Bradford City check out our Match Preview