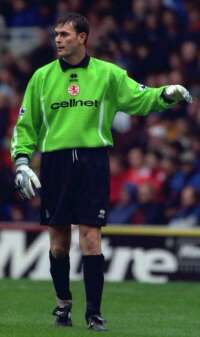 Marlon - second Clarets' debut
Firstly Stan said a couple of days ago that we were rubbish (his word) at Cheltenham but that's gone now and he didn't want to talk about it. He's absolutely right, we now have to forget the cup and concentrate on the league. We must crack on and see where it takes us, and hope it is a top two place.
The only player for certain to play is latest loan signing Marlon Beresford who will make his second debut for the Clarets as a replacement for Nik Michopolous. Marlon has played only one first team game this season and that was in Middlesbrough's 2-0 defeat at Liverpool in early December. Prior to that it is just over a year ago since he played for Sheffield Wednesday on loan in a 4-1 defeat at Wimbledon when he put through his own goal.
As to who will play in front of him is something only Stan can know but he did say there would be changes. There have been conflicting reports about the fitness of some players with Glen Little, Paul Weller and our other new signing Robbie Blake the centre of attention here. These three are officially not certain to be fit although other sources say they are all fit. In fact we hear that Glen is fit but might not be selected.
The only player definitely out of the reckoning is Steve Davis although there is good news concerning him. At the Foundation Forum on Thursday Stan said he could be back at best in two weeks and at worst in four weeks unless there is any reaction. He has been allowed to step up his training.
I did think that Arthur could be given a rest and in Gordon Armstrong we have an excellent replacement but West Brom by the very nature of the way they play will not be putting us under constant pressure. They will come and play like Millwall did in keeping it tight at the back and in midfield and trying to catch us out. They have built their season on 1-0 wins.
Despite Stan threatening changes, and he did say that with the extra option of Robbie Blake it would give the opportunity to drop a couple of players who are not worth a place, I wouldn't be surprised to see the same outfield ten take the field.
That would give us a starting line up of: Marlon Beresford, Dean West, Ian Cox, Arthur Gnohere, Lee Briscoe, Glen Little, Kevin Ball, Tony Grant, Alan Moore, Ian Moore, Gareth Taylor. The subs would then probably be chosen from : Luigi Cennamo, Gordon Armstrong, Graham Branch, Paul Cook, Paul Weller, Robbie Blake, Dimitri Papadopoulos and Brad Maylett.
I still wouldn't be surprised thought to see Stretch Armstrong replace Arthur in defence although I'm sure it won't happen.
West Brom have no injury problems and look set to field the same sixteen as were on duty in the home game against Birmingham in midweek which was: Russell Hoult, Larus Sigurdsson, Darren Moore, Phil Gilchrist, Igor Balis (Des Lyttle 82), Derek McInnes, Andy Johnson, Adam Chambers (Ruel Fox 53), Neil Clement, Jason Roberts, Danny Dichio (Scott Dobie 53). Subs not used: Brian Jensen, Bob Taylor.
Jordao is available again and could win a place on the bench but the big change could be up front. Manager Gary Megson has expressed his displeasure at recent performances from Danny Dichio and he has substituted him four times in the last five games. He has this week commented on Dichio's performances dropping the strongest hint yet that he could be replaced by former Carlisle striker Scott Dobie.
Kick off tomorrow is at 6:15, the third time this season that we have kicked off at this ridiculous time following the away game at Sheffield Wednesday and the home fixture against Manchester City. Don't forget to set your videos for Songs of Praise.
Check out West Brom in our Match Preview