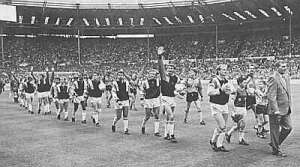 Brian Miller leads out the team in 1988
Today though marks the anniversary of two of those games, the Sherpa Van Trophy Final of 1988 and the 1994 2
nd
Division Play Off Final.
The two previous visits had been for FA Cup Finals in what had been better times for the club but although it was to be the least important of the four visits to the twin towers the Sherpa Van Trophy Final against Wolves was perhaps the most significant.
Just over a year earlier the club had been on the brink of extinction, only saved on that dramatic day of The Orient Game and here we were a year later playing at Wembley. It had been a much better season, and 10th in the Fourth Division along with this final was without the first big step forward that we so needed.
The Wembley game gave manager Brian Miller the opportunity to emulate Harry Potts by first playing for Burnley at Wembley and then leading a Burnley team out there as manager. It was a richly deserved honour for Miller who had been a central figure in the highest high and the lowest low at Turf Moor.
Wolves had won the division and were clear favourites to beat us and so they did in front of a massive crowd of 80,841. That was more than the attendance at the England v Scotland game a week earlier.
We came home disappointed only to find out that Burnley chairman Frank Teasdale was telling anyone who cared to listen that it had been a 'Fantastic Day'. Sorry Frank but I've not had a fantastic day yet when the Clarets have lost.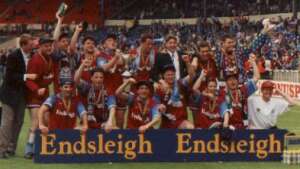 Celebrating the play off win
Six years later to the day, 29
th
May 1994 and we were back and this time it was a far more important game. This would decide whether Stockport (then just the Unfriendly Club) or ourselves would go up to the First Division.
Just as Brian Miller had equalled Harry Potts' achievement in 1988 then this was the year that Andy Farrell became the first Burnley player ever to play for the club at Wembley twice. He played the full game in 1988, this time he came on as a substitute for the injured John Francis in what was to be his last first team game for the club.
We were behind early in the game but with Tin Man and Les Thompson winding up the opposition we won through 2-1 against ten men. It was a wonderful day but it was to be as far as Jimmy Mullen's Claret and Blue Army were to go. A year later and we were back down in the 2nd Division.
As a youngster 40 years ago at the FA Cup Final I always dreamed of seeing the Clarets win at Wembley. It was a long wait but one worth waiting for, a memorable day.
Who knows whether we will ever play there again with our without the twin towers. Should we ever make it though what are the chances of it being played on 29th May again?
The Burnley teams in the two games were:
Sherpa Van Trophy Final v Wolves 1988
Chris Pearce, Peter Daniel, Ray Deakin, Ian Britton, Steve P Davis, Steve Gardner, Andy Farrell, George Oghani, Steve Taylor, Paul Comstive, Shaun McGrory (Leighton James). Sub not used: Ashley Hoskin.
Division Two Play Off Final 1994
Marlon Beresford, Gary Parkinson, Les Thompson, Steve M Davis, John Pender, Warren Joyce, Ted McMinn, John Deary, Adrian Heath, John Francis (Andy Farrell), David Eyres. Subs not used: David Williams, Graham Lancashire.