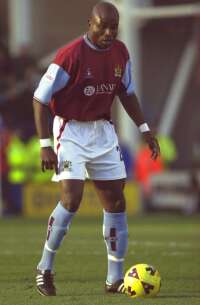 Arthur could return after four games out of the side
There are things we know for certain such as Ian Cox and Steve Davis both missing from the defence through injury and the news that Nik Michopoulos will be back in goal for the first time since January following Marlon's return to Middlesbrough.
The two central defensive positions were taken up by Kevin Ball and Mitchell Thomas for most of last Saturday's game, Mitchell moved from left back when Coxy went off injured. They will be challenged by Gordon Armstrong and Arthur Gnohere for the shirts.
Arthur hasn't featured since the 1-0 defeat at Walsall and this is the longest run he has had out of the team all season. He was probably in need of a break but this might just be the time to bring him back in.
There are other questions to be asked such as whether Lee Briscoe will play at full back or in midfield, will there be starting places for Paul Weller and Alan Moore after they came on as subs last week. Glen Little played in the reserves on Wednesday and he is available again.
Up front it seems a choice of two from three with Stan having admitted that playing all three up front didn't work. So who plays and who doesn't? The club themselves have said today that there could be wholesale changes although I rather suspect they are not Stan's words.
There are certainly though far more questions than answers and any guess at the line up is likely to be some way from being close but here goes. I think it could be something like: Nik Michopoulos, Dean West, Mitchell Thomas, Arthur Gnohere, Lee Briscoe, Kevin Ball, Paul Gascoigne, Tony Grant, Alan Moore, Gareth Taylor, David Johnson.
I don't think Stan will use Luigi Cennamo on the bench and so the five outfield players will be selected from Gordon Armstrong, Glen Little, Paul Cook, Andy Payton, Ian Moore, Pal Weller and Robbie Blake.
The Wolves side is no easier to predict. There are four players we know for certain will be missing. Mark Kennedy, Carl Robinson and Ludovic Pollet are injured and Kevin Muscat decided to play the game with his elbows again a couple of weeks ago and will be suspended.
Wolves won't be short of players to bring in to replace them though and can select from three new signings they have made this week. Kevin Cooper, a player I rate highly, has signed from Wimbledon for £1 million and is an ideal replacement for Kennedy down the left hand side.
Gunnar Halle and Jacob Laursen have come in on loan from Bradford City and Leicester respectively and either one of them could come in at right back. Halle played in the last game at Turf Moor for Bradford and was the player who got away with the blatant push on David Johnson that should have won us a penalty.
Three other players are considered doubtful, captain and centre half Paul Butler and strikers Dean Sturridge and Nathan Blake. Butler and Sturridge missed last week but both have said they hope to be fit.
It shouldn't be surprising if all three make it, when we went to Wolves earlier in the season they had six players doubtful with David Jones saying that he hoped two of them might make it. All six of them played.
For more on Wolves see our Match Preview