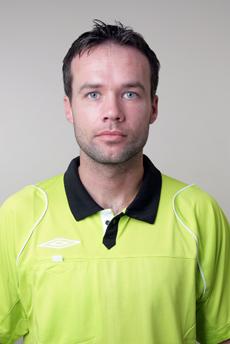 Tierney's career as a Football League referee started in the 2009/10 season. He was promoted from the Blue Square Premier League but had already officiated at the top level as a Select Group assistant referee.
He kept his cards in his pocket on his Football League debut in August 2009 when he refereed Macclesfield's 4-0 home defeat against Notts County. He averaged just over two and a half yellow cards in his first season when he refereed two Championship games.
The first of them was eventful. he yellow carded eight players in Crystal Palace's 2-1 win at Scunthorpe and also sent off home defender Marcus Williams.
In the follow two seasons there were more games at Championship level and this season, with six this season in twenty games so far.
He has refereed Barnsley three times, the most recent of them coming in April last year in a 3-1 defeat at Hull. Earlier in the season he had refereed at Oakwell for the first time when Bristol City won 2-1 in October 2011.
This season, in the twenty games he's refereed, there have been 43 yellow cards and two red cards. Seventeen of those yellow cards have gone to home team players and 26 of them to away team players. Both players sent off were away team players.
The assistant referees are Nigel Murphy (Nottinghamshire) and David McCallum (Tyne & Wear). The fourth official is Robert Jones (Merseyside).