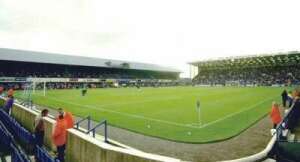 Fratton Park
The club have reported that there are now just under 1,000 tickets left for the Wolves game and with the visitors having completely sold out their allocation the biggest gate of the season is guaranteed.
The same is not the case though for our away game at Portsmouth on Easter Monday and ticket sales have been slow to say the least. We can confirm that around 500 tickets have been sent back to Fratton Park and Burnley fans will be able to gain admission by payment at the turnstile for this game. For prices see Portsmouth away in our Ticket Details section.
If you are going to Portsmouth then it is well worth keeping an eye on the weather forecast for the south coast, the seating at Fratton Park for visiting supporters is not under cover. Last season we got away with it on a dry but bitterly cold afternoon.