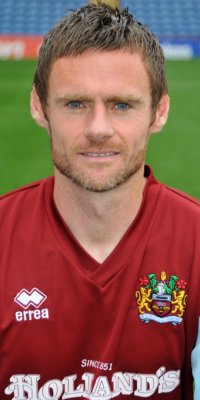 Graham Alexander - won the player ratings
It was an excellent all round performance from the Clarets as we fought back with the late Martin Paterson equaliser to earn a Turf Moor replay next Tuesday and the hope of a lucrative tie at Arsenal in the next round.
Blake had swept the board in the previous game against Spurs and he was again the winner of the man of the match vote. This time it was a lot closer but he polled 28.1% of the vote to win it with Wade Elliott in second place with 23.0%. Graham Alexander, who started the game in the holding midfield role before moving to right back following the substitutions, came third with 21.2% of the vote. It was one of the closest we've had this season.
It was the same three for the player ratings although in reverse order. Alexander came out on top with a rating of 8.38 out of 10, Elliott was second with 8.33 and a rating of 8.19 was enough to give Blake third place.
It was close between them and they share the player of the year points with four each. The three players are all in the group behind the top five so the points have not made much difference to the table.
Voting is currently in progress for the game at Watford and will run until tomorrow night.
The Current Table
59: Martin Paterson
51: Chris Eagles
47: Chris McCann
45: Brian Jensen
44: Stephen Jordan
38: Robbie Blake
34: Graham Alexander
33: Steven Caldwell & Wade Elliott
19: Michael Duff
18: Clarke Carlisle
16: Kevin McDonald
9: Russell Anderson
7: Steven Thompson
5: Joey Gudjonsson & Christian Kalvenes
1: Jay Rodriguez