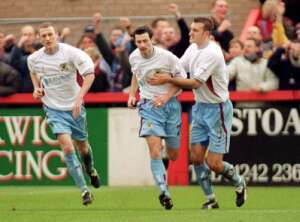 Yes we did score one goal - and here we sort of celebrate
I am still finding it very difficult to take it in that we have gone out of the FA Cup today after losing 2-1 at Cheltenham with the a performance that was nothing short of an absolute disgrace.
It started fairly well and I took in a local Sunday league game on the pitch across the road. In fact it was a cup tie that ended 2-2 and went to Golden Goal Extra Time. Within just a few minutes the winner was scored and the losing side turned out to be the Cheltenham Town Supporters Club. I spoke to some of their players who were all having to miss the big game because the tickets were sold on a Sunday morning when they were in action and had sold out by the time they got there.
Of course there is none of this at Burnley where we have devised a system that rewards the loyal fans and makes sure they get the away tickets first. If you believe that you will believe anything, it is a system that had its place in the 1950s and 1960s and clearly does not work.
The two lads sat behind me were clearly unfair beneficiaries of seat tickets. "Is this Ball the one that played for Sunderland?" one of them asked. When told yes the other then said, "Has he just signed for us." Clearly loyal fans who deserved the seats, NOT. Something must be done to stop this and make sure the regular away supporters get first option on away tickets when they are in short supply rather than wasting everyone's time with long queues and constant borrowing of away ticket stubs.
So to the game and to be honest I thought we could win this one convincingly. Cheltenham are in a good run of form but they are not the best footballing side in the world. They have a big tub of lard up front called Julian Alsop who shall we say is not the best footballer in the world. To be honest he doesn't even look a 3rd Division footballer to me. He's 6ft 4ins tall and they look for him in a direct style.
Ian Cox in a challenge with the big tub of lard
I happen to think Burnley can cope with some ease against this sort of tactic and when I saw the state of the pitch, as near to perfect as you are going to get, that was enough for me and I was already thinking about who we might get in the next round. The easiest home draw possible was my choice and a real hope of reaching the last eight.
The game kicked off at 1 o'clock and by five minutes past the hour I was beginning to change my view. The problem seemed to be that one of the teams, Cheltenham, seemed up for the game and the other, Burnley, did not. This is the FA Cup for goodness sake, surely we were up for it, surely we weren't going to let a side of such limited ability dictate the game. Oh yes we were.
In those first few minutes I saw Tony Grant clearly look as though he didn't want the ball. It must have been burning his feet because all he was prepared to do was get rid of it. He probably wasn't the worst on the pitch but what I saw in those first five minutes, and nothing really changed throughout, was totally unacceptable.
There really were some dreadful performances. We allowed the big tub and his partner to worry us at the back, we were hurried out of it in midfield as Mark Yates, yes the one that wasn't good enough for us in the 4th Division, took control and up front you would have thought that Moore and Taylor were up against Tardelli and Gentile at their peak such was the lack of success they had.
And then we had the goalkeeper. Poor Nik Michopoulos went down after collecting the ball and then threw the ball straight out as he clearly needed treatment. He was in no fit state to continue and so Luigi Cennamo came on for his debut. It was somewhat ironic that this happened on the weekend that we mourned the passing of Billy O'Rourke and his debut was soon to become O'Rourke like.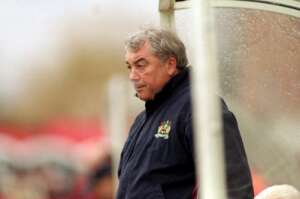 Stan can't believe it either
The first time Lui touched the ball was to get it out of the net after being beaten from a free kick when he appeared not to have set up the wall well enough and his next touch was four minutes later when he had to pick it out again after being beaten again. He certainly could have asked for more from his central defenders on this one.
Within a minute Alan Moore, who had a ten minute purple patch, pulled one back. We didn't know at the time but this period was as good as it was going to get. Faith restored and we would now be on the ascendancy. Just for a moment I considered a big victory with the Clarets now back in it. Hadn't I seen enough in those first 30 minutes to realise that it was probably going to be just as crap for the rest of the game?
There is not a lot else I can say, we didn't improve at any stage of the game, poor Lui in goal frightened me to death anytime he went near the ball, and the rather average 3rd Division Cheltenham had an easy ride.
We had a lot of possession but I can't recall a single moment when we really created a chance. Cheltenham were dealing with us with some ease. I've seen many a game when the Clarets have conceded possession and Stan afterwards has said that they never hurt us. That's just how it was today, we weren't good enough on the day to hurt this Cheltenham side who gave it everything they had.
We did make a couple of substitutions late on, Graham Branch replaced the invisible Little and Brad Maylett came on for the dreadful Ian Moore. Significantly Paul Cook once again spent the entire game on the bench. I find that very difficult to understand.

On many occasions after a bad performance and result Stan has always said his players bounce back, that of course is why they are good players. Well last week against Sheffield Wednesday were dreadful and today, rather than bounce back, we were worse.
The final whistle blew and the Clarets fans left in silence in and in total disbelief. I can't remember ever having seen such expressions on the supporters' faces. Just look at our recent FA Cup record. 1997/98 out to 3rd Division Rotherham United, 1998/99 out to 3rd Division Darlington, 2000/01 out to 3rd Division Scunthorpe United and 2001/02 out to 3rd Division Cheltenham Town.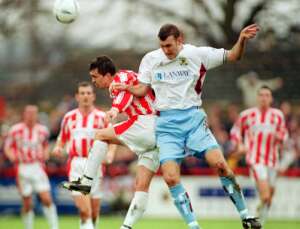 Glen Little in challenges in the air
Today's was the worst, and before you tell me about Rotherham and Darlington they were when we had a lot worse side than this. This was a disgraceful and totally unacceptable performance today and a lot of our players have to ask themselves some very serious questions.
Were all the Burnley fans on a downer, not ALL but MOST. The two sat behind me who knew nothing about Bally weren't bothered. They spent the entire afternoon wired up to radios discussing the goings on at Highbury. All they did was rob two genuine Clarets fans of seats, at least we can start to put that right.
Whether it was a good thing that we have no midweek game or not I'm not too sure but personally I am almost thankful that it will be another seven days. I don't think I could stomach another game just now.
Best of luck to Cheltenham in the next round and congratulations to the players of the Cheltenham Town Supporters Club and their opponents for providing us with some entertaining football today.
The Cheltenham team and those supposedly taking part for the Clarets were,
Cheltenham Town: Steve Book, Mike Duff, Chris Banks, Jamie Victory, Lee Williams, Mark Yates, Lee Howells, Antony Griffin, Russell Milton, Julian Alsop, Tony Naylor (Neil Grayson 53). Subs not used: John Brough, Shane Higgs, Martin Devaney, Neil Howarth.
Burnley: Nik Michopoulos (Luigi Cennamo 19), Dean West, Ian Cox, Arthur Gnohere, Lee Briscoe, Glen Little (Graham Branch 77), Kevin Ball, Tony Grant, Alan Moore, Ian Moore (Brad Maylett 84), Gareth Taylor. Subs not used: Gordon Armstrong, Paul Cook.
Referee: Alan Butler (Sutton-in-Ashfield) – no real complaints, he was better than any of our players and was let down by two dreadful assistants.