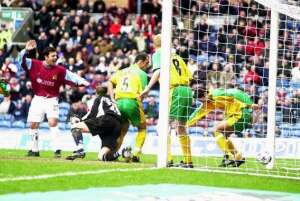 Clarets take an early lead
Before the game the supporters received some criticism from chairman Barry Kilby in the match day programme and at the end of the game were subjected to a strong attack from manager Stan Ternent.
However the main talking point has to be the injury to Glen Little who was down for almost ten minutes before being stretchered from the field. It seems that Glen's injury thankfully is not as bad as first feared although it is expected that he will remain in hospital overnight for observation.
It looked as though there was a clash of heads with Norwich City's Darren Kenton and Glen was unconscious before he even landed. However that was not the case and he was caught by Kenton's boot. The Norwich physio was on the spot immediately and played a major role as he appeared to pull back his swallowed tongue. After a couple of minutes of the game being stopped there was a slow hand clap from the Norwich fans but they then realised how serious it could be. As Glen was finally stretchered from the field just about every Norwich supporter in the Cricket Field Stand stood to applaud him.
We were already in front through Gareth Taylor after a bright start but once the game restarted after Glen's injury it did so in a very subdued Turf Moor and the early impetus had been lost. The Clarets had started with three changes from Tuesday with Steve Davis, Arthur Gnohere and Robbie Blake replacing Ian Cox, Graham Branch and Paul Cook as we reverted to a 4-4-2 system. There was no sign of Cox or Branch on the bench but Dimitri Papadopoulos was there, appearing from nowhere for the first time in some weeks.
When Iwan Roberts had to go off to be replaced by Marc Libbra and the Clarets 1-0 up you just thought it might be our day but Libbra was to look the best forward on view and helped change the game in Norwich's favour.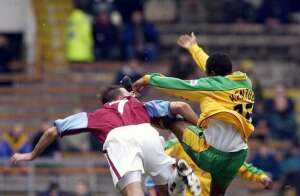 The collision that caused Glen's injury
By half time I thought Norwich had become the better side and to be honest we could count ourselves fortunate to be a goal up. A goal up we were though and maybe this was the bit of luck we clearly need to get the season moving again.
It was not to be though, within ten minutes of the start Norwich were level and suddenly another home defeat looked a real possibility. It came as no surprise that the equaliser came from our left hand side, Norwich had seen this as the best route to our goal all afternoon. Lee Briscoe, one of our most consistent players this season, was not at his best and it is fair to say he got very little assistance from Alan Moore.
There again I'm not too sure who did play well in midfield today. Bally was way off his best and although he started well the afternoon just got worse and worse from Paul Weller who missed out best chance in the second half.
After the goal we had one of those strange substitutions that so appears to get everyone's back up when Gordon Armstrong replace Robbie Blake. Armstrong went into the midfield and Ian Moore, who had replaced Little, went up front. This had been Blake's first start for the Clarets and it was less than impressive. I did feel that we needed a signing to lift the place back in January and Blake was the chosen one. He has done anything but lift the place for one reason or another. He is now fully fit but is already being picked on by a number of the crowd.
If this substitution was strange then the third was pure farce. Papadopoulos got the call from Stan and finally arrived on the touchline. The fourth official lit up the numbers 28 and 29 and so Alan Moore was the one to come off. Just as the substitution was about to be made Stan hurriedly stopped it, sent Dimitri back to the bench and got Maylett ready instead. At the next stoppage in the game it was Maylett who replaced Alan Moore.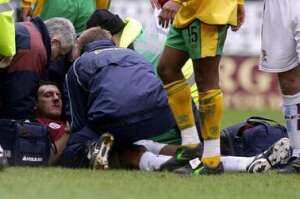 Glen looks out of it as he is looked after by the medics
None of it made any difference at all. We might have had most of the possession at this stage but hardly looked like scoring again. Once again a visiting goalkeeper, this time former Claret Paul Crichton, had little to do. He probably exerted himself more acknowledgng the Burnley crowd before the game when they gave him an excellent reception.
It is difficult to find a Man of the Match but it would have to come from the two central defenders Steve Davis and Arthur Gnohere and if pushed I would go for Arthur.
The referee Peter Jones I though did alright and he could well have sent off both Gareth Taylor and Darren Kenton when he yellow carded them. Taylor's retaliation was minimal but he did retaliate and spark of the unseemly set to. His yellow has cost him though, it is his tenth of the season and he will now miss the home games against Preston and Bradford City.
At the end of the day it was another uninspired home performance played in a poor atmosphere but we are more than getting used to that now. But what of those comments from Kilby and Ternent?
Barry Kilby had a go at the home fans for booing but something he should also note is that the crowds at Turf Moor are not matching last season. Rather than have a go at those who are going on he might be trying to work out what has happened to those that were here last season and are no longer coming. I don't think he needs to look much further than the current pricing structure at Turf Moor that despite all Andrew Watson's claims are just going too far for many in this town.
After the match though Stan launched an astonishing attack on the supporters as bad as anything since Waddle turned on the Clarets fans back in November 1997. Stan accused some of the fans of having champagne tastes on beer money and then said that he knows the mentality of the fans having lived here for a long time.
Stan is right to claim that we have come from nowhere to fifth in the First Division in a couple of years or so and nobody is denying that at all but we went into 2002 a point clear at the top of this division and now find ourselves fifteen points adrift of top placed Wolves.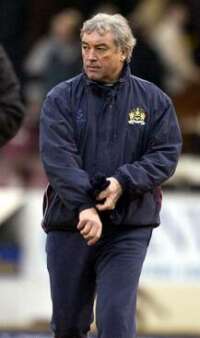 Stan looks less than happy at the end of the match
Not only that we have not won at home since mid December and have picked up just twelve points from the last eleven league games. It is just sheer frustration from the fans who were getting carried away just a few weeks ago and now see automatic promotion as almost impossible and with each passing result even a play off position not certain. For sure if we continue our current form through the next ten games then we will not make the top six and that would be a disaster.
I don't agree with the fans booing and certainly detest the way Burnley fans turn on individual players but the chairman and manager do need to realise that having a go at the fans will not improve things at all. Stan had a go at this web site recently but that will not affect us at all. We shall continue to support the club and we will continue to have our opinions, without which it would be pointless.
Stan has also had a go at the pitch and said there had been a 'Balls Up'. This on the same day that the club's Chief Executive had suggested otherwise in the programme. Stan had a go at those responsible, presumably ground director Clive Holt and the head groundsman, and said that he was taking charge of the pitch. He said that we are a passing side and Pele couldn't pass a ball on there.
Burnley Football Club needs to get out of this bad run and out of it quickly. Stan has always preached the word togetherness and that is exactly what is needed now. We all need to be pulling in the same direction. Preston are here next but before then we have six points to play for away from home. Let's go and get some of those six points, if not all of them and come back and turn on David Moyes' lot in the same was as we did last season.
But please can we not stop knocking each other, it is doing none of us and Burnley Football Club any favours whatsoever.
The teams today were,
Burnley: Marlon Beresford, Dean West, Steve Davis, Arthur Gnohere, Lee Briscoe, Glen Little (Ian Moore16), Paul Weller, Kevin Ball, Alan Moore (Brad Maylett 75), Robbie Blake (Gordon Armstrong 57). Subs not used: Paul Cook, Dimitri Papadopoulos.
Norwich City: Paul Crichton, Malky Mackay, Craig Fleming, David Nielsen (Mark Rivers 87), Phil Mulryne, Gary Holt, Iwan Roberts (Marc Libbra 23), Darren Kenton (Daryl Sutch 60), Steen Nedegaard, Andy Roberts, Trevor Benjamin. Subs not used: Arra Lee-Barrett, Clint Easton.
Referee: Peter Jones (Lougborough).