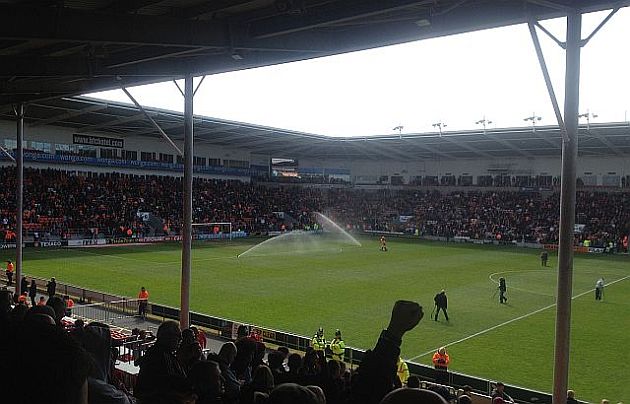 Training is on the menu again at Blackpool
I don't think Palace were a club many thought would be up there when the season started and I don't think there were too many surprised when they lost their first three games against Watford, Middlesbrough and Bristol City.
There was speculation that manager Dougie Freedman was under pressure but then things changed round. In fourteen games since they've not been beaten, winning eleven and drawing three, and they now proudly sit on top of the table.
The run has seen the departure of Selhurst Park legend Freedman. Instead of the poor results landing him the sack, the good results landed himself the job at Bolton who were looking to replace one of their legends.
He's gone, they've had two caretaker managers and now Ian Holloway, who got out of Blackpool, and nothing's changed. It has at Blackpool though, certainly according to long serving defender Ian Evatt who has just about said that Holloway had given up at Bloomfield Road.
Evatt has said today: "In the last couple of months, we hadn't really done much training. We had numerous days off, anything from two to five or six at a time. It was as surprising to the lads as anyone else.
"We are an honest bunch of players and we want to work hard, but at times we weren't doing that. Maybe that's why we had the bad spell that we had. We've knuckled down now. Training has been fantastic in the last ten days or so. It's been hard work but we've needed it."
No matter what, Holloway was the only one of the recent bunch of new Championship managers to secure a win on Saturday. Bolton, Blackpool under Michael Appleton both drew while us and Ipswich were beaten.
Ipswich are doing well away from home. That's 11 goals they've conceded in the two away games since Mick McCarthy took over. The man hasn't been impressed and after the six goal mauling at Ipswich he said: "It was an embarrassing display. Awful to be honest. It hurts me. I pride my teams on being tough and hard to beat, well organised and with the ability to play. but you have to sort the first part of that out first.
"We are milky. We are brittle. But there is nothing I can do about that performance now. We will take the bones out of it and move forward to what is obviously a very important game against Peterborough next week."
Ipswich are currently third from bottom, ahead of just Bristol City and Peterborough, and by only one point. Sheffield Wednesday and then Barnsley are the two clubs hovering closest to the bottom three.
Up at the top, Cardiff beat Middlesbrough to take their automatic promotion position while Huddersfield lost their place in the top six, replaced by Blackburn for whom former Huddersfield striker Jordan Rhodes bagged a hat trick.
We've a free week now ahead of a full fixture list on Saturday. Those fixtures are below along with the weekend results and stats, the leading goalscorers, each club's disciplinary record and the highest and lowest attendances.
The Results
Saturday 17th November

Birmingham City 2 Hull City 3

Huddersfield Town 1 Brighton & Hove Albion 2

Bolton Wanderers 1 Barnsley 1

Leicester City 6 Ipswich Town 0

Bristol City 1 Blackpool 1

Nottingham Forest 1 Sheffield Wednesday 0

Burnley 0 Charlton Athletic 1

Peterborough United 1 Blackburn Rovers 4

Cardiff City 1 Middlesbrough 0

Watford 2 Wolverhampton Wanderers 1

Crystal Palace 3 Derby County 0

Sunday 18th November

Millwall 1 Leeds United 0
The Stats

Biggest Win

Leicester City 6-0 v Ipswich Town (home)

Total Goals Scored

33 (20 home - 13 away)

Player Scoring Most Goals

3 - Jordan Rhodes (Blackburn Rovers)

Highest Attendance

24,584 - Nottingham Forest v Sheffield Wednesday

Lowest Attendance

5,997 - Peterborough United v Blackburn Rovers

Total Yellow Cards

33

Total Red Cards

3

Most Cards in a Game

Millwall v Leeds United (5Y 1R) Ref: Mark Halsey
Leading Goalscorers (League Only)

17

Charlie Austin (Burnley) - includes 2 penalties

15

Glenn Murray (Crystal Palace) - includes 6 penalties

11

Jordan Rhodes (Blackburn Rovers) - 2 with Huddersfield Town

10

Tom Ince (Blackpool) - includes 2 penalties

9

Marlon King (Birmingham City) - includes 2 penalties
Craig Mackail-Smith (Brighton & Hove Albion) - includes 2 penalties
David Nugent (Leicester City) - includes 1 penalty

8

Sone Aluko (Hull City)
Luciano Becchio (Leeds United) - includes 3 penalties
Craig Davies (Barnsley) - includes 1 penalty

7

Steven Davies (Bristol City) - includes 2 penalties
Darius Henderson (Millwall)
Matej Vydra (Watford) - includes 1 penalty
Pete Whittingham (Cardiff City) - includes 3 penalties
Chris Wood (Millwall)

6

Chris Eagles (Bolton Wanderers)
Heidar Helguson (Cardiff City)
Theo Robinson (Derby County) - includes 1 penalty
Bakary Sako (Wolverhampton Wanderers)
Liam Trotter (Millwall) - includes 1 penalty
Hat Tricks
Date

Player & Game

01/09/12

3: Pete Whittingham - CARDIFF CITY v Wolverhampton Wanderers

15/09/12

3: Charlie Austin - BURNLEY v Peterborough United

22/09/12

3: Glenn Murray - CRYSTAL PALACE v Cardiff City

22/09/12

4: Craig Davies - Birmingham City v BARNSLEY

23/09/12

3: David Nugent - LEICESTER CITY v Hull City

29/09/12

3: Emile Sinclair - Hull City v PETERBOROUGH UNITED

02/10/12

3: Charlie Austin - BURNLEY v Sheffield Wednesday

23/10/12

3: Marlon King - Millwall v BIRMINGHAM CITY

06/11/12

3: Glenn Murray - CRYSTAL PALACE v Ipswich Town

17/11/12

3: Jordan Rhodes - Peterborough United v BLACKBURN ROVERS
Disciplinary Record (League and Cup)

Club

Y

R

Y

R

Club

Y

R

Y

R

League

Total

League

Total

Barnsley

22

1

25

2

Huddersfield Town

30

2

31

2

Birmingham City

19

2

21

2

Hull City

13

0

13

1

Blackburn Rovers

20

0

20

0

Ipswich Town

24

0

24

0

Blackpool

21

0

21

0

Leeds United

34

2

39

2

Bolton Wanderers

33

1

35

1

Leicester City

17

1

17

1

Brighton & Hove Albion

23

0

24

0

Middlesbrough

23

0

26

0

Bristol City

23

0

25

0

Millwall

32

1

34

1

Burnley

28

1

34

1

Nottingham Forest

29

3

29

3

Cardiff City

25

0

27

0

Peterborough United

32

0

33

0

Charlton Athletic

26

0

26

0

Sheffield Wednesday

29

1

32

1

Crystal Palace

22

1

26

1

Watford

33

4

34

4

Derby County

17

1

18

1

Wolverhampton Wanderers

17

2

19

2
>
Highest and Lowest Attendances

Highest

Lowest

Att

Fixture

Att

Fixture

28,707

Nottingham Forest v Derby County (30/09)

5,435

Peterborough United v Bristol City (18/09)

28,582

Sheffield Wednesday v Leeds United (19/10)

5,997

Peterborough Utd v Blackburn Rovers (17/11)

28,229

Middlesbrough v Sheffield Wednesday (09/11)

6,188

Peterborough United v Millwall (21/08)

27,437

Derby County v Sheffield Wednesday (18/08)

6,348

Peterborough Utd v Huddersfield Town(23/10)

26,598

Sheffield Wed v Bolton Wanderers (22/09)

8,088

Barnsley v Bristol City (01/09)

26,594

Brighton & HA v Sheffield Weds (14/09)

8,195

Barnsley v Crystal Palace (23/10)

26,402

Brighton & Hove Albion v Leeds United (02/11)

8,319

Barnsley v Peterborough United (02/10)

26,293

Brighton & HA v Middlesbrough (20/10)

8,427

Peterborough Utd v Derby County (29/10)

26,185

Charlton Athletic v Barnsley (20/10)

8,571

Barnsley v Ipswich Town (29/09)

26,121

Brighton & HA v Birmingham City (29/09)

9,258

Millwall v Birmingham City (23/10)
The Next Fixtures
Saturday 24th November

Barnsley v Cardiff City

Hull City v Burnley

Blackburn Rovers v Millwall

Ipswich Town v Peterborough United

Blackpool v Watford

Leeds United v Crystal Palace

Brighton & Hove Albion v Bolton Wanderers

Middlesbrough v Bristol City

Charlton Athletic v Huddersfield Town

Sheffield Wednesday v Leicester City

Derby County v Birmingham City (17:20)

Wolverhampton Wanderers v Nottingham Forest