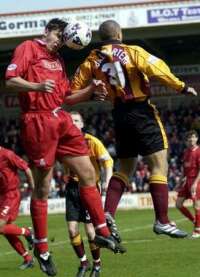 Action from Bradford City's last league game at Walsall last month
Last week Mr. Pompous saw Bradford City go into administration and putting the blame on the collapse of ITV Digital and the return of Benito Carbone. Since then of course he has admitted that the blame for the problems at the Bradford & Bingley Pulse Valley Parade Stadium are all down to him.
He has changed manager with the weather as things have gone wrong but constantly saddled the club with players on long term and big contracts. Some he has been able to get rid of such as Dan Petrescu, others such as Carbone have been like the proverbial bad penny. No matter where he sent him on loan he kept coming back.
Earlier in the week the administrators made a total of 39 non playing staff redundant, 32 of these were shop staff. Yes it seems that Mr. Pompous employed more shop staff than the new Sainsbury store in Burnley. Today though those administrators made seven others redundant including the youth team coach and then shocked the football world by making nineteen players redundant with immediate effect.
Three of those players Gunnar Halle, Stuart McCall and Gareth Whalley had all previously been released but not until their contracts were completed at the end of next month whereas the other sixteen were all under contract for at least one more season.
Those now out of work are Peter Atherton, Danny Cadamarteri, Benito Carbone, Aiden Davison, Wayne Jacobs, Eoin Jess, Claus Jorgensen, Juanjo, Jamie Lawrence, Gary Locke, Robert Molenaar, Andy Myers, Andy Tod, Gary Walsh, Ashley Ward and David Wetherall.
Apparently this action will bring about a saving of £20,000 per day and incredibly Mark Bower is the only player to remain at the club who played for Bradford City in the 1-1 draw at the Turf as recently as March.
As far as I can see these players are now free to go and sign for any other club they choose but what is the future for Bradford City Football Club. I feel so sorry for the supporters, nobody deserves this, and the current financial worries at Turf Moor regarding Stan's uncertain budget pales into insignificance compared to this. We can think ourselves very fortunate indeed that we are not in this sort of mess.