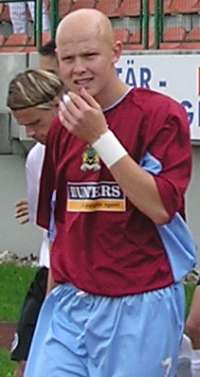 Richard Chaplow - sold in January 2005
Whether the Clarets prove to be active in the market remains to be seen. Last season we brought in three loan players, but a year earlier there were three permanent signings and two loan signings with two of those signings, Steven Caldwell and Joey Gudjonsson, very much part of the team still.
But the worries in January for Burnley fans have always been the same. It started with the sales of both Robbie Blake and Richard Chaplow in 2005, then Ade Akinbiyi in 2006 and last year Andy Gray was sold to Charlton.
We're bracing ourselves again should anyone make substantial offers for any of our players whilst at the same time hoping to bring in players to improve our chances. We're fans, and so we always want to see new players coming in rather than our favourites leaving.
But the finances are not good at Turf Moor, it doesn't need a genius to work that out, and only last week chairman Barry Kilby admitted that the wage bill this season is higher than ever.
Kilby has told the local media today: "I can't promise anything and I'm not going to," but he has hinted at loan deals should they be required but admitted bringing them in as cover is not always easy.
He added: "You've got the loan player market and we've got some good links. Owen got Mark Randall from Arsenal last season and that was through Liam Brady. They all work their connections. I think every club does.
"You can bring a player in if you're really down in a position and he goes straight in, but what you can't do is get a loan player as cover, so it's not that simple."
Owen Coyle said at the recent AGM that there were two to three players he was looking to move on and that could give him some options. It's all pointing to a quietish January as far as incoming players are concerned. We've already been linked with a loan move for Celtic's Darren O'Dea although I wouldn't be at all surprised to see us make a move to bring in a defender on a permanent basis.
As for outgoings - it is just time for us to cross our fingers and hope that our best players are still with us on 3
rd
February.