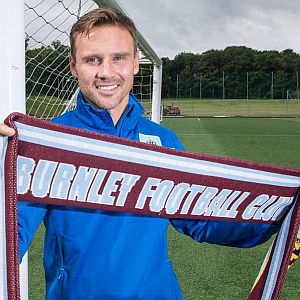 The 32-year-old Taylor started his career with Luton where his performances were receiving rave reviews. A number of clubs higher up the leagues were reported to be interested in signing him and in the summer of 2002 he moved to Portsmouth who were just about to embark on a promotion season under Harry Redknapp.
Pompey, as you would expect given who was in charge, got him on the cheap. He was out of contract and they had to pay only £750,000 for his services, prompting Luton boss Joe Kinnear to say: "At least Dick Turpin had the decency to wear a mask."
He spent six years at Fratton Park where he initially played in a defensive position on the left, initially at left wing back and then as an orthodox left back when they switched formation.
In 2004 he lost his place to new signing David Unsworth but when Alain Perrin replaced Redknapp, who had done a runner to Southampton, he won a place on the left hand side of midfield and over the next couple of seasons he certainly earned me some fantasy points as he revelled in the position, scoring numerous goals, many from long distance.
The 2007/08 season saw him lose his place at Portsmouth with the signing of Niko Kranjcar and in January 2008 he signed for Bolton. More goals came, including one at Burnley on Boxing Day 2009 in a game that proved to be Owen Coyle's last home game in charge of Burnley.
He featured in all but two of Bolton's games in the following season after recovering from glandular fever but moved on at the end of the season and signed for Sam Allardyce at newly relegated West Ham.
He's gone on to make 76 league appearances for West Ham, taking his total number of league appearances to 506 in which he's scored 64 goals.
He netted just once last season and that was against us, scoring the first of West Ham's two penalties in their Capital One Cup tie at Turf Moor.
Taylor was released by West Ham at the end of last season and today he's swapped their claret and blue for the claret and blue of Burnley and signed a two year deal to become Sean Dyche's latest signing as we prepare for the Premier League.