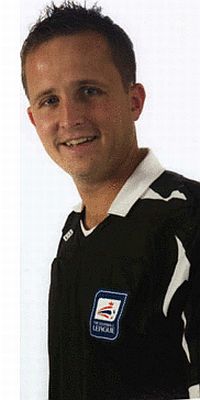 Today will be a fifth Burnley game for Webb who has had some decent games since a disappointing performance in his first Burnley game, a 1-0 defeat at Coventry in the 2010/11 season.
This is his fifth season as a Football League referee and he started that career with a League Two game between Bury and Brentford in August 2008 on the day we last played at Sheffield Wednesday.
He had to wait over a year to get his first Championship game, Preston v Peterborough at Deepdale early in the 2009/10 season, but even in his fifth season he operates more often in the lower divisions with only four of his 19 games this season in the Championship.
After a very quiet first season in terms of cards, from his second season he's averaged around three yellow cards per game so it is no surprise to see his total this season is 56 yellows in 19 games with a couple of red cards, both in League Two games.
Of those yellow cards, 27 have gone to home team players and 29 to away team players and I'm sure Burnley fans will be delighted to know that one of the players he's sent off this season is Darren Purse who is now playing for Plymouth.
His four Burnley games to date have given him a RATE THE REF rating of 65.73 out of 100 and 31st place in the table.
The fourth officials today are Nick Hobbis (West Midlands) and Gary Hilton (Lancashire). The fourth official is David Plowright (Nottinghamshire).
Previous Burnley Games
Season

Opponents

V

Res

Y

R

Burnley Players Carded

2010/11

COVENTRY

a

0-1

3

0

n

Duff

2010/11

SWANSEA

h

2-1

6

0

n

Duff, Mears, Fox

2011/12

DONCASTER

h

3-0

3

0

n

McCann, Paterson

2012/13

HUDDERSFIELD

a

0-2

1

0